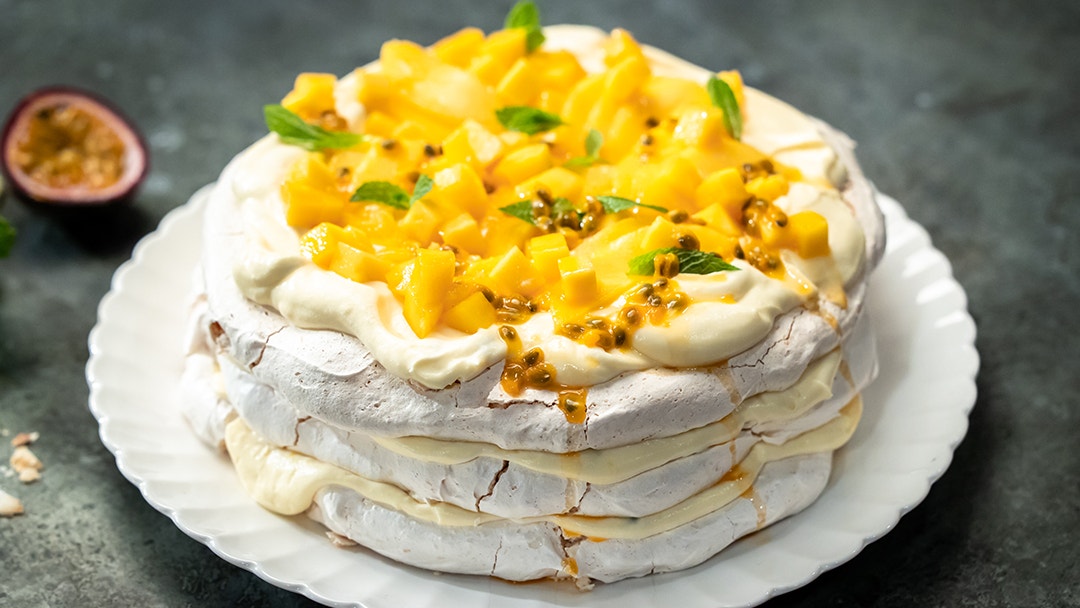 Steps
Preheat the oven to 100C (fan forced).
Trace a 20cm circle on three sheets of baking paper. Grease and line three oven trays with paper, trace-side down.
Place egg whites in a large bowl of an electric mixer fitted with a whisk attachment. Beat on medium speed until soft peaks form. Gradually add caster sugar, beating well between each addition to ensure the sugar is dissolved. Continue to beat on high speed for a further 3 to 4 minutes, or until thick and glossy. Add lemon juice and cornflour. Beat on low speed until combined. Fold in coconut.
Divide mixture evenly among circles on prepared trays. Spread evenly to the edges of the traced circle and smooth over top.
Bake in the oven for 1 hour and 30 minutes, or until the meringue is crisp and dry. Turn off the oven and allow meringues to cool in oven with door ajar for 1 hour.
For the passionfruit custard, heat the milk in a medium saucepan over a medium to high heat. Just before it comes to the boil, turn off the heat.
Meanwhile, whisk the egg yolks, sugar and sifted cornflour in a bowl until pale. Gradually add the warm milk, whisking until combined. Return to the saucepan and cook, stirring over a medium heat until mixture starts to thicken and holds it shape. Remove the pan from the heat and strain through a fine sieve over a bowl. Stir in passionfruit pulp and cover surface with plastic wrap. Refrigerate until cold.
Just before serving, beat cream and icing sugar in a clean bowl of electric mixer until firm peaks form. Fold in custard until just combined.
To assemble, place one meringue disc onto a serving plate. Spread with one-third of the cream mixture. Repeat layering with remaining meringue discs and cream mixture. Top with mango and scatter with toasted coconut chips. Decorate with fresh mint leaves and drizzle with extra passionfruit pulp.