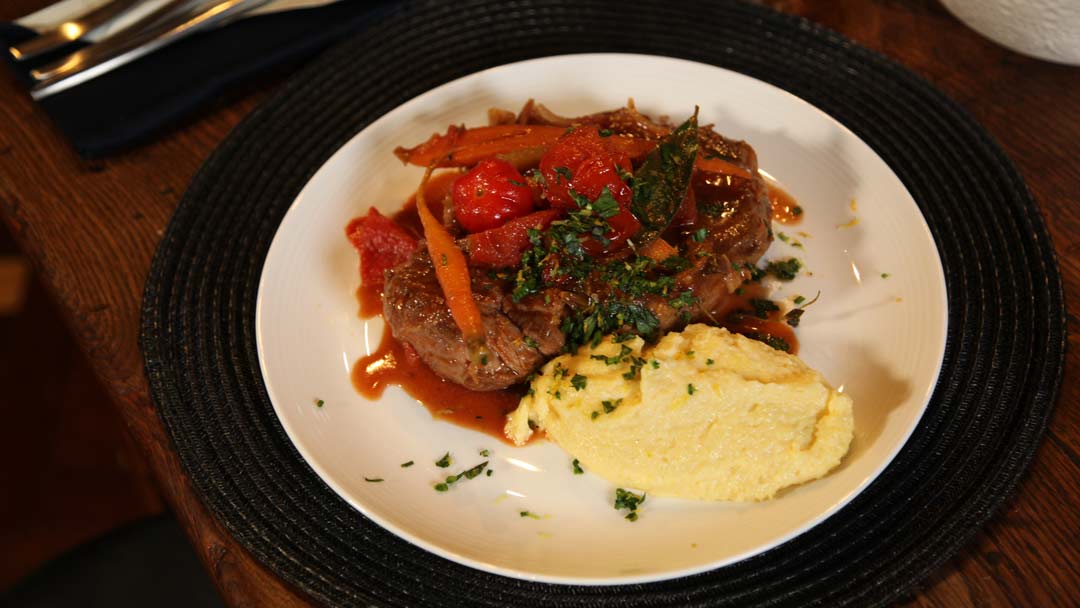 Steps
Combine the almond meal and flour in a bowl with salt and paprika, dust each shank with the flour mixture, massaging well into the meat.
Heat a large frypan over a medium-high heat, add ½ of the butter and oil, and brown the meat well on both sides until browned. Remove from pan and set aside. Add remaining butter and oil, onion, carrot and celery, cook until lightly caramelised. Add wine and cook, deglazing the pan. Transfer to slow cooker.
Set Slow cooker to low, add remaining ingredients and stir to combine. Submerge shanks into slow cooker, close lid and leave to cook for 8 hours.
Meanwhile, to make the gremolata combine ingredients in a bowl.
To make polenta add rind of parmesan, stock and milk to large saucepan and bring to aboil. Gradually add polenta in a steady stream stirring constantly with a wooden spoon.
Reduce heat to medium-low and cook, stirring frequently for about 6-8minutes or until polenta is thick and creamy. The colour will change to a pale yellow and the grains will soften. Remove cheese rind.
Add butter, cheese and cream and stir until well combined and butter has melted. Season with salt.
Serve osso buco on polenta sprinkled with gremolata.