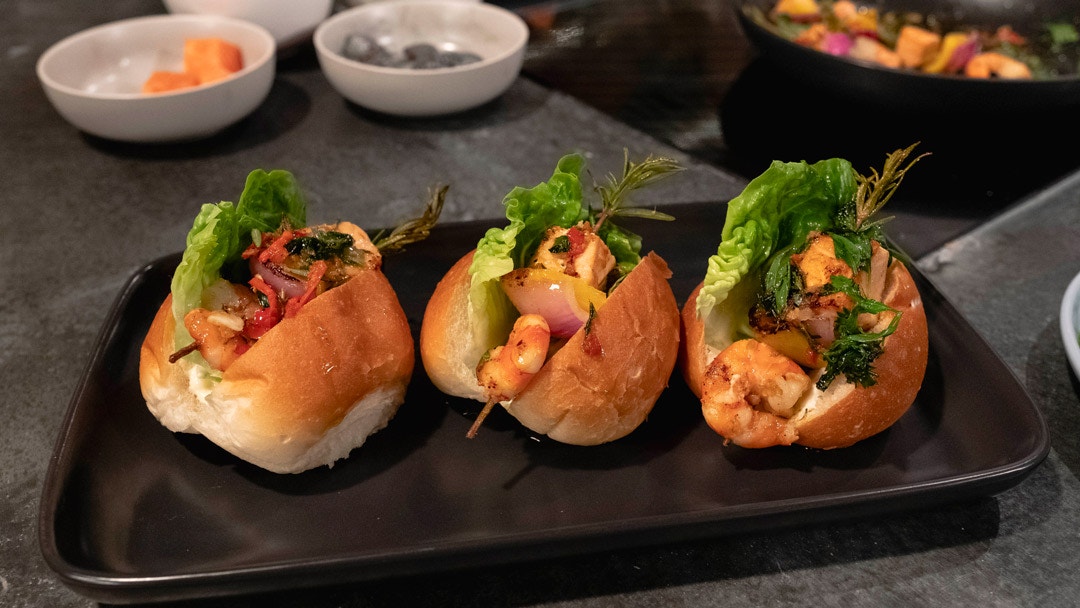 Steps
To make the marinade, strip the rosemary leaves from eight sprigs, leaving approx. 4cm of leaves attached at the top. Set stems aside.
Finely chop half the leaves then place in a mortar and pestle. Add the garlic, ginger and chilli and season with salt. Pound and stir with the pestle until garlic is broken down. Add the oil, season well with pepper and mix well.
Alternately, thread the salmon, capsicum, onion and prawns onto the rosemary sprigs. Place in a large bowl with half the marinade and toss to coat.
Heat a large frying pan over medium-high heat. Add the skewers. Cook, turning occasionally, for about 3 to 4 minutes, or until prawns are cooked through and salmon is cooked to your liking. Scatter basil and parsley over skewers and spoon over remaining marinade from mortar and pestle, turning skewers to coat. Remove the pan from the heat.
Split the rolls down the middle, about three-quarters of the way through. Spread with the mayonnaise and fill with the lettuce and a skewer, removing the rosemary sprig.