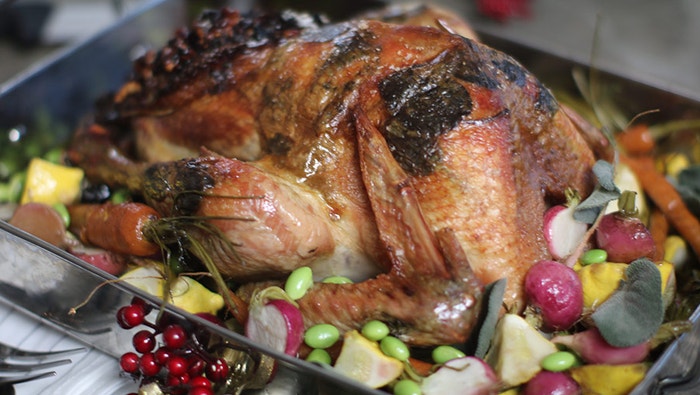 Steps
Preheat oven to 200C fan forced.
Heat olive oil in a frying pan over a medium heat. Sautee onion and garlic for 4-5 minutes until onion has softened. Remove from the heat.
Finely chop together the herbs and nuts, add to the onion mixture. Also add the sausage meat, egg, breadcrumbs and cranberries. Season and mix together with your hands to combine.
Stuff the cavity of the turkey with the stuffing. Press the additional cranberries and walnuts onto the surface of the exposed stuffing.
From the neck end of the turkey, run fingers under the turkey skin to loosen, being careful not to tear the skin. Push butter underneath the skin of the breast, make knife incisions into the legs and wings and add more butter underneath the skin. Arrange the extra sage leaves and thyme sprigs under the skin for presentation.
Season skin generously and roast turkey for 15 minutes until starting to brown.Reduce heat to 150C fan forced and cook for 45 minutes per kilogram (2h15m for 3kg turkey). Check turkey every 20 minutes, basting with juices to stop it drying out. If the skin is browning too much, cover with foil.
One hour before the turkey is cooked add the vegetables to the pan. Return to the oven. Five minutes before the end of cooking time add the edamame to the pan to heat through.
When cooked, check the turkey is done by inserting a small sharp knife in the fattest part of the thigh. If the juice runs clear and the meat pulls apart easily it's ready. If not, continue to cook and check again. Once the turkey is cooked rest for at least 30 minutes, or up to 1.5 hours before serving.