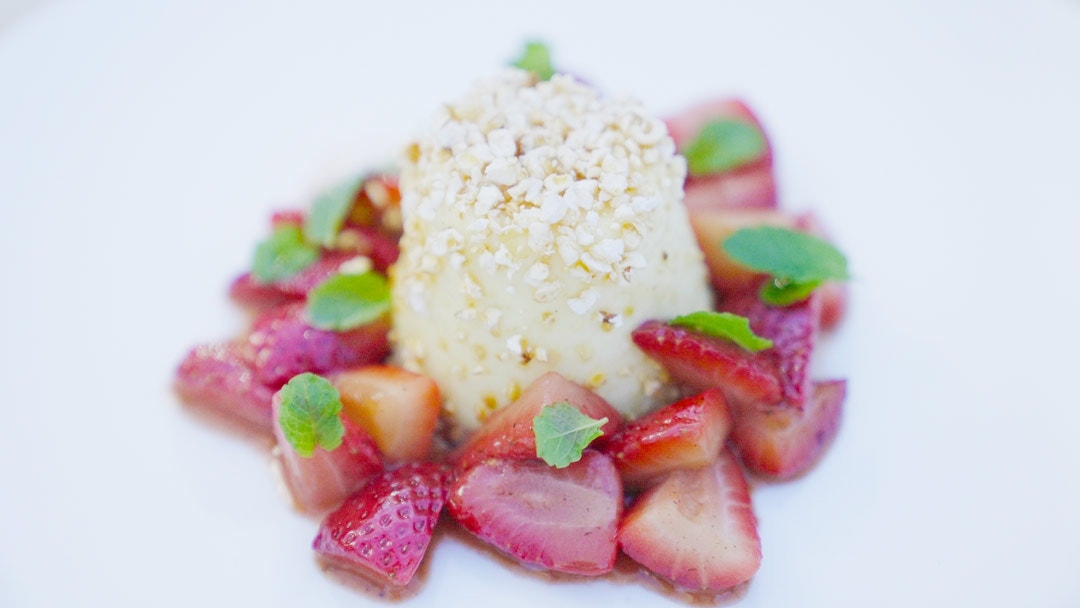 Ingredients
Sweet Corn and Gin Panna Cotta
Salted Caramel Popcorn Topping
Steps
Cover four Gelatine leaves in Gin to soak until softened
Add the milk and cream to a saucepan stir and bring to a low simmer.
Grate two ears of corn into a bowl using a box grater, add a splash of the warm cream and milk and stir to combine
Split the vanilla bean down the centre and scrape out the seeds. Add the seeds and the pod to the saucepan
Add 150 grams of sugar, the corn mixture and the bloomed gelatine to the saucepan and stir until the gelatine is dissolved. Bring to a simmer and then turn off the heat.
Pass the cream mixture through a fine sieve into a Large Jug with a spout.
Pour into moulds and refrigerate for at least 4 hours or overnight.
To unmould dip moulds into hot water and use a butter knife around the rim to separate the edge of the Panna Cotta. Invert on a plate, tap the mould and slowly remove.
Remove stalks and quarter the Strawberries. In a sautépan, melt the butter with 50 grams of sugar until the sugar has dissolved and is starting to bubble, place the strawberries in the pan and swirl to coat.
Pour the gin over strawberries and tilt the pan to Flambe, reduce the liquid slightly and remove to a bowl to cool.
Add the Salted caramel popcorn to a food processor and blitz
Coat the Panna Cotta with the blitzed popcorn and spoon on the flambe strawberries to serve.