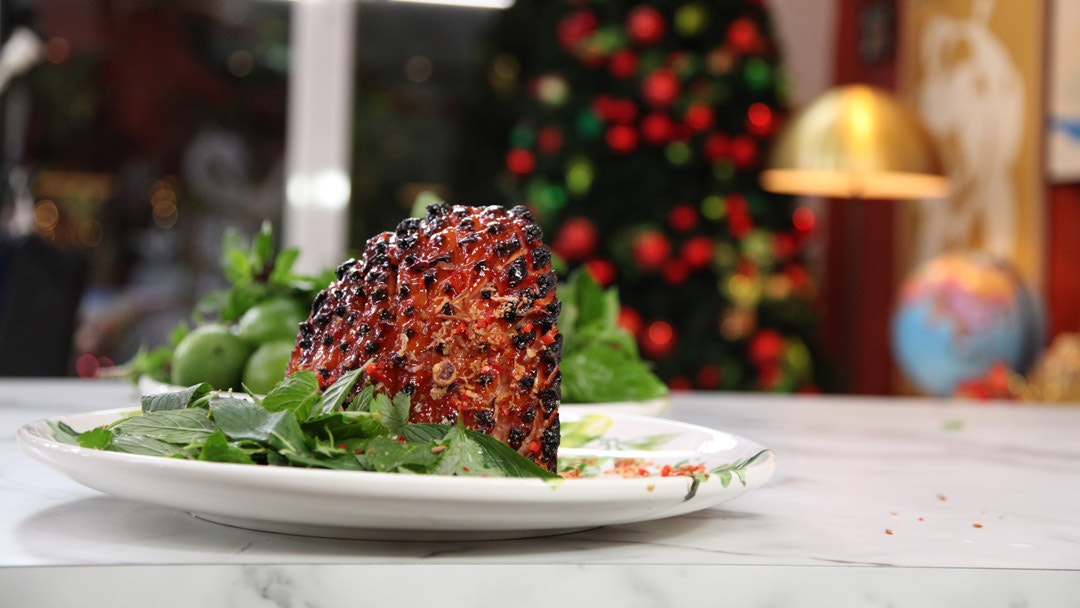 Steps
Make the glaze. Very finely chop the lemongrass heart. Put the sweet chilli, lemongrass, lime juice and honey in a small bowl. Stir to combine. Add fish sauce and soy.
Preheat oven to 200C fan-forced.
Meanwhile, run thumb under rind to separate from fat. Peel back, sliding fingers under rind to remove while keeping the fat in place.
Using a sharp knife, score the fat diagonally at 3cm intervals to form a diamond pattern. Be careful not to score the fat too deeply or it may slide off during cooking and give an uneven finish.
Push one whole clove into the centre of each diamond. The cloves help hold the fat layer in place. Spoon over glaze and using back of spoon gently cover the ham all over with glaze.
Bake the Ham. Bake, basting twice with the pan juices or extra glaze for 15-25 mins, until caramelised. You will need to keep checking the ham in oven to make sure the glaze is cooking evenly and not burning.
Meanwhile put the garnish ingredients in a small bowl, drizzle with oil and toss to coat. Serve warm or at room temperature, scattered with the garnish.