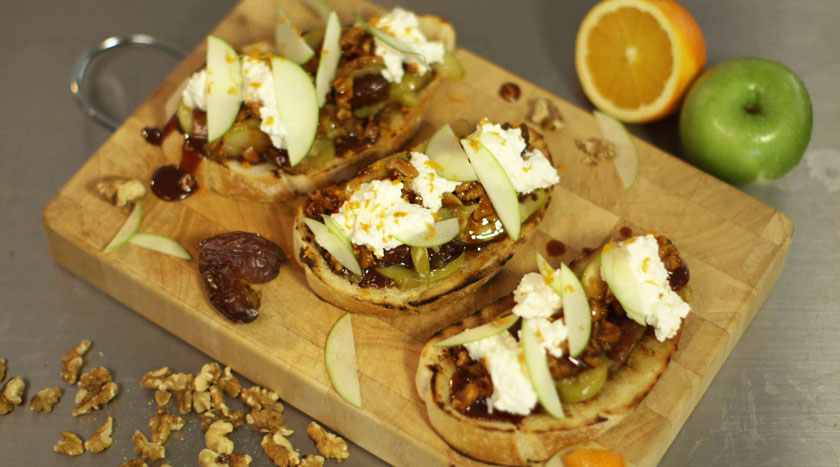 Steps
Preheat oven to 160 degrees.
Place apple wedges (except quarter set aside) into large frying pan with 50g of butter, zest & lemon juice. Cook on high heat until butter foams.
Drop heat to medium and cook gently for about 15 minutes, until apple wedges are soft but still hold their shape. You will need to gently toss the apples with a spatula during this cooking time.
Add dates and optional honey and cook for 2 to 3 minutes, just enough to warm dates.
While apples are cooking, place walnuts on oven tray and dry bake for about 8 minutes. Be careful not to overcook and darken the colour otherwise the walnuts will taste very bitter.
In the meantime, make the syrup. Place honey, butter and lemon juice into small saucepan and bring to rolling boil, then simmer hard for about 2 3 mins and drop to a low heat.
Once walnuts are cooked, roughly chop and add to syrup mix. Remove from heat until ready to use then bring back to boil for a few seconds and spoon hot syrup over apples.
Mix orange juice and zest from half the orange into ricotta, set aside.
Slice sourdough into chunky diagonal slices, drizzle oil on one side and cook in hot criddle until marks are charred onto bread. Drizzle oil on other side, turn and cook.
To serve, place charred sourdough onto a plate, generously top with apples, walnut syrup, chunks of ricotta, fresh thin slices of green apple and extra orange zest.
Notes
Buy a fresh loaf of sourdough from your local baker - its worth it, as most small bakeries use organic flours. Freshly-cracked walnuts are amazing because the oils are much sweeter. Australia produces delicious walnuts, often found at small greengrocers or farmers markets. Fresh ricotta is much smoother in texture and sweeter in flavour than commercially packed ricotta, you will find it in the deli section. Buy organic honey or, better still, local or seasonal blossom honey.