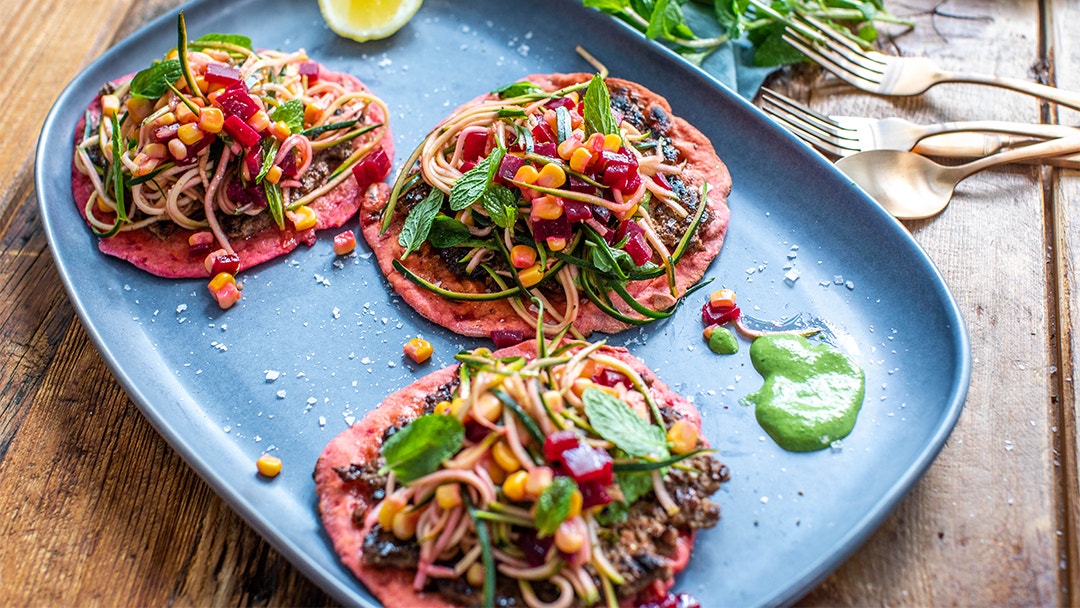 Ingredients
Spiced Lamb Pita Tacos and Green Yoghurt
Steps
Place half the yoghurt, one-third the beetroot slices (100g) and the flour in food processor attachment of a stick blender and blitz until a mixture starts to come together. Transfer to a lightly floured bench and begin to knead until a soft dough forms.
Divide dough into eight equal portions and roll each portion into a ball using floured hands. Flatten with the palm of your hands, then roll out on a lightly floured surface to about 16cm round.
Meanwhile, heat a barbecue hot plate over medium to high heat.
Spray two flatbreads with olive oil, then cook on the heated hot plate for about 1 to 2 minutes, or until grill marks appear on the base and bubbles begin to form on top. Spray with oil then flip over and cook for a further 1 to 2 minutes, until tender. Remove and repeat with remaining flatbreads.
Meanwhile, combine lamb, spices and garlic in a bowl and season with salt and pepper.
Spread lamb mince in a thin layer over each flatbread (about 60g on each). Cook, mince-side down on the heated flat plate, pressing down with a spatula, for about 1 to 2 minutes, or until lamb is cooked and well browned. Remove.
Blitz spinach, mint, half the olive oil and the remaining yoghurt in same, clean beaker of the stick blender until smooth. Season with salt and pepper.
Combine zucchini and corn in a large bowl, season with salt and pepper and drizzle with remaining olive oil and toss to combine. Finely chop the remaining beetroot slices then gently stir into salad just before serving.
To serve, top flatbreads with zucchini salad and dollop with green yoghurt. Garnish with extra mint leaves.
TIP: Use a julienne peeler or spiraliser to shred zucchini. You can use the grill or flat plate of a barbecue for this recipe.