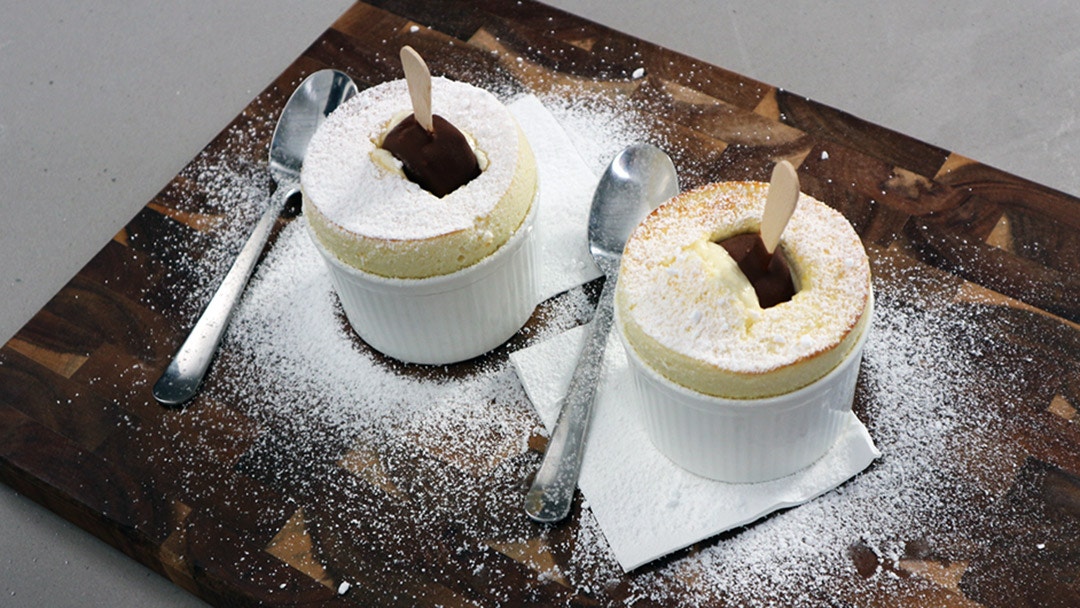 Steps
Preheat oven to 200C fan-forced.
Place a baking tray in the oven.
Grease four (¾ cup capacity) ovenproof soufflé ramekins with melted butter. Lightly dust with caster sugar. Place in the fridge.
Use a fine grater to zest the lemons. Cut the lemons in half and squeeze the juice.
Put 2 egg yolks in a medium bowl with the caster sugar and whisk until creamy and pale.
Put the cream, flour and cornflour into a small bowl and mix to a smooth paste.
Warm the milk with the zest in a saucepan over a medium heat until just boiling. Remove from the heat.
Gradually mix the hot milk into the flour mixture.
Pour the mixture back into the saucepan and put it over a gentle heat. Stir constantly until very thick.
When you feel it thickening, the mixture should look like custard remove the pan from the heat and stir into egg yolk mixture, stir in lemon juice. Cool completely.
Whisk the egg whites in stand mixer to stiff peaks. Add 1 tbs caster sugar and beat until dissolved.
When the mixture in the bowl is cooled, add one large spoonful of the egg whites and beat well with the whisk to make the mixture less stiff. Then use a large metal spoon or spatula to very gently fold in the remaining egg whites.
Use the spoon to go round the outside and cut through the middle. Continue until no streaks of egg white.
Fill the ramekins with the mixture and level off with a palette knife. Run a thumb nail around the inside rim of the ramekins (this helps the soufflés rise evenly without catching on the sides).
Place the ramekins on the baking tray in the middle of the oven for about 8-12 minutes until risen and turning golden. Don't open the oven during cooking. Time and watch the soufflés carefully – take them out as soon as they've risen and are starting to go golden.
Dust with icing sugar and serve immediately with ice creams.