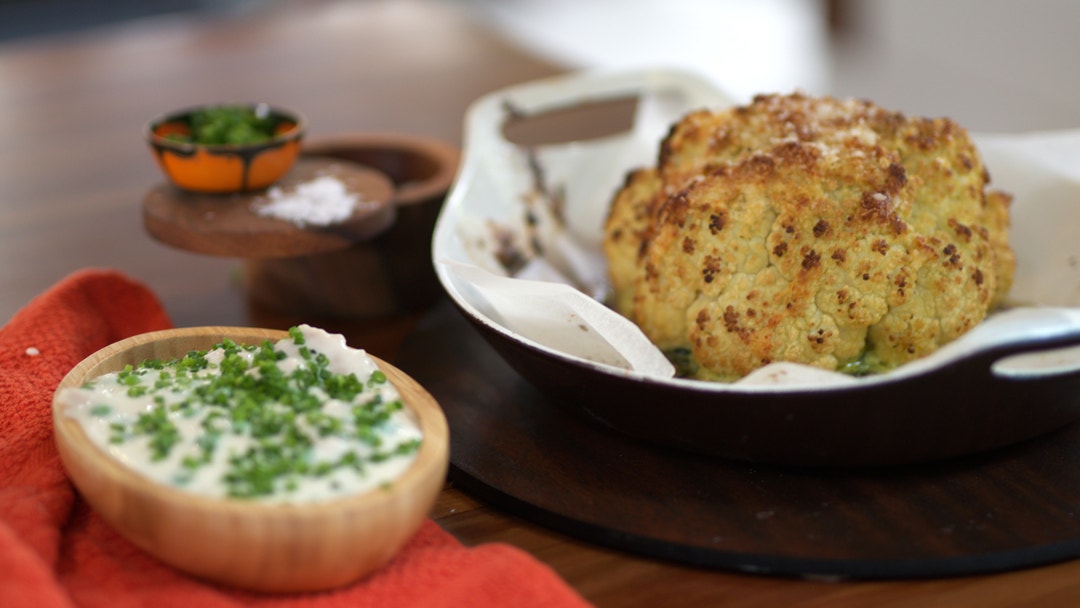 Steps
Notes
Trim outside leaves and some of the inner stem from cauliflower using a paring knife but leave it whole without disturbing the florets.
Place cauliflower, stem-side up, into a large bowl or saucepan. Pour over enough boiling water to cover. Set aside for 20 minutes to soften slightly.
Meanwhile, strain spinach, pressing well to remove as much liquid as possible. Discard water. Combine spinach, eggs, 1/3 cup parmesan, 2 tbs breadcrumbs and herbs. Add enough of the cream to make a loose mixture. Season with salt and pepper and stir to combine.
Preheat oven to 200C fan forced. Line base of a roasting pan with baking paper.
Drain cauliflower well. Place on a board, stem-side up.
Spoon spinach mixture a little at a time into cauliflower, in batches, and use your fingers or the back of a spoon to push it in between the florets. Repeat until you've used all the filling. (See tips). Place cauliflower, stem-side down, into pan.
Combine melted butter with 1/3 cup parmesan and 2 tbs breadcrumbs. Spread mixture over cauliflower. Season.
Bake for 50-60 minutes or until tender, cover loosely with foil if over browning. Stand for 10 minutes.
Tuna Mornay Sauce
Melt the butter in a medium saucepan over medium-low heat. Add the tuna oil and flour and cook, stirring, for 1 minute or until foaming. Gradually add the milk and place over medium heat, stirring constantly, for 5 minutes or until the mixture thickens. Reduce heat to low and cook for 2 minutes. Season with salt.
Meanwhile, microwave the frozen peas for 2 mins, drain.
Add mozzarella to sauce and stir until melted. Fold tuna chunks and peas into sauce.
Serve
Carve the cauliflower into wedges, with tuna mornay sauce scattered with extra chives served to the side.
TIPS
You can make your own chopped blanched spinach you will need 90g chopped, blanched and drained spinach for this recipe.
Place any leftover spinach stuffing into a greased ramekin, cover with foil and bake for 15 mins or until set.
The tuna mornay sauce is delicious as a stand-alone recipe served stirred through cooked pasta. For 4 people cook 375g short pasta such as Penne, drain reserving 1/2 cup cooking liquid. Return pasta to pot with reserved cooking liquid and tuna mornay sauce, season with salt and pepper and stir to combine. Divide among bowls. Scatter with extra mozzarella or finely grated parmesan.