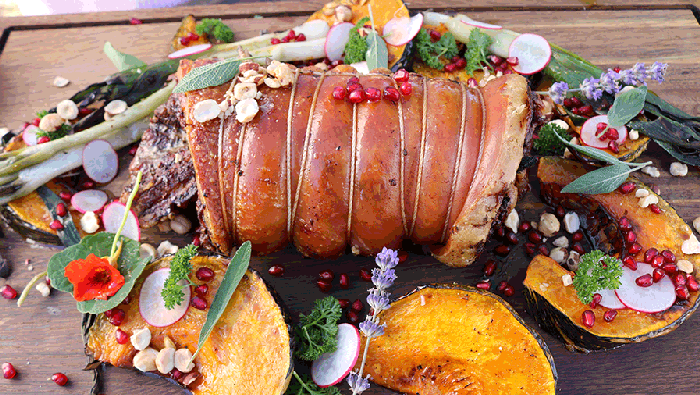 Steps
Free Range Porchetta
Store the pork belly uncovered, skin side up in the fridge overnight to dry out the skin.
The next day preheat BBQ to high, or preheat an oven to 220C. Remove pork belly from fridge to come to room temperature. Finely chop zest, fennel, chilli, garlic and herbs together, mixing to combine.
Take pork belly and lay meat side up on a chopping board, sprinkle the herb mixture over the meat to cover. Season with salt and pepper, sprinkle with the torn leaves.
Tightly roll the pork belly, encasing the herb filling and truss at 5cm intervals using kitchen twine, so that it forms a roll with the skin on the outside. Rub the skin with a generous lashing of olive oil.
Cook porchetta using a rotisserie attachment for approximately 20 minutes to get a glassy crackling. Turn heat down and cook for a further 1-1.5hrs until a meat thermometer reads 75C or a metal skewer inserted for 20 seconds feels hot when touched to your lip. If using the oven, cook for 20 minutes at 220 and then reduce heat to 150C and cook for a further 2 hours, until internal temperature is reached or it passes the skewer test. Remove from heat and rest for 10 minutes, remove string and slice to serve.
Pumpkin with Pomegrante and Hazelnuts
Preheat BBQ or light fire.
Grill leeks until they begin to char on the outside, turning to char all over.
Remove from the grill and wrap them in baking paper. Put the paper wrapped leeks into a plastic bag to steam for at least 10-20 minutes (depending on the size of the leeks) until they are completely softened.
To serve, remove the burnt outer skin of the leek with your fingers and eat the soft sweet interior.
Charred Leeks
Season pumpkin wedges with salt and pepper and generously drizzle with olive oil.
Grill pumpkin over the fire, drizzling it with honey. Cook until soft and caramelized. If cooking in the oven, cook in a 220C preheated oven for approximately 25 minutes.
To serve sprinkle hazelnuts, radish and pomegranate seeds and drizzle with olive oil.