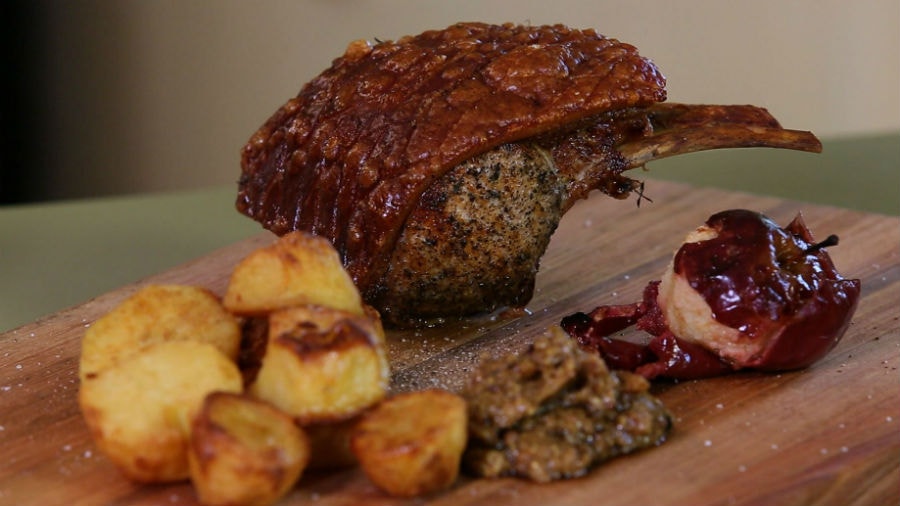 Steps
Roast Pork
Remove pork from fridge 30 minutes before roasting. Score the skin by making an incision just on the surface. Sprinkle crushed salt, cracked pepper and thyme all over a chopping board. Mix it around together with your bare hands. Rub this seasoning all over the pork rack making sure it gets inside the scoring. Splash a little bit of apple cider vinegar and rub in with your hands. This will help the skin to crisp, creating a perfect crackling.
Place the rack into a roasting tray with 3 whole apples and drizzle olive oil over both. Roast in oven at 250 degrees for 15 minutes. Lower oven temperature to 170 degrees for a further 40 minutes. Once roasted, allow to rest in tray before carving.
To make the perfect apple sauce: discard apple skins and using a fork, mash the apple. Mix well with the drippings in the tray from the pork. Then add Dijon mustard and seeded mustard, followed by a splash of apple cider vinegar.
Carve pork roast and serve with apple sauce and roast potatoes.
Crispy Roast Potatoes
Heat oven to 200 degrees.
Peel potatoes and cut all potatoes to the size of a golf ball. Wash the potatoes in cold water to get rid of the extra starch. Put potatoes into large pot and cover with cold water. Season heavily, bring to the boil and parboil for 5 minutes.
Drain potatoes in a colander and leave them to dry for 5 minutes. Using a fork, scrape the surface of the potato to create a rough surface. This will help create the crispy affect when roasting.
Place potatoes on an oven tray (without oil or butter) and into oven for 2 minutes so the potatoes dry off as much as possible. Then remove the potatoes, rough them up a little more and back into the oven for 10 minutes.
Remove potatoes from oven. With a fork squash the potatoes down gently. Place dollops of butter around the potatoes and drizzle olive oil. Bake for another 30 minutes until super crispy.
Notes
The secret to achieving moist tender pork is using free-range; The best types of potatoes for roasting are Dutch Creams and Russets.