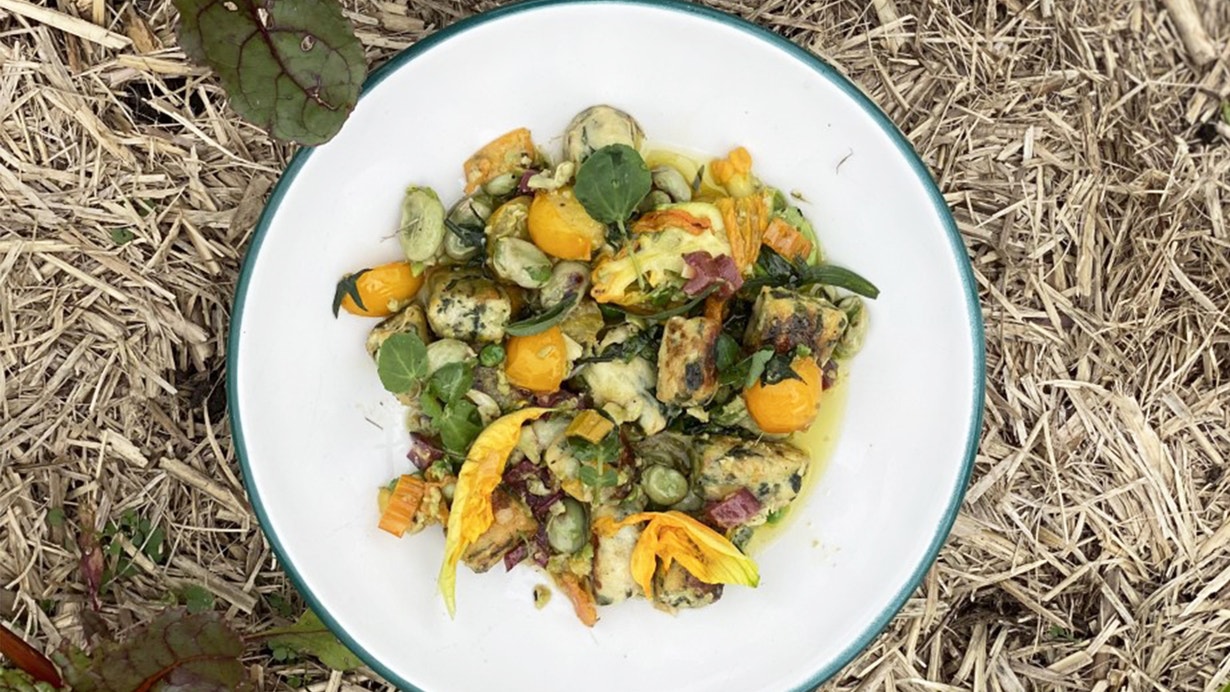 Steps
For the gnocchi, place the ricotta in a large bowl with the egg, flour and parmesan, season with salt and pepper. Stir the mixture and bring it together.

Blanch the leaves from the rainbow chard then drain, squeeze out excess moisture and finely chop. Add to the ricotta mixture, stirring to distribute it through the mix.  

Bring a large stockpot of salted water to the boil. Lightly flour a clean surface, then working in batches take about 1/3 cup of the gnocchi mixture, dust in flour and roll on the floured surface into a log shape. Transfer to a sheet of baking paper then cut into gnocchi shapes. Repeat with remaining mixture, dusting with flour if it's beginning to stick.

Using the baking paper, add the gnocchi to the pot of boiling water. Boil until the rise to the surface and cook for a further 20 seconds then use a slotted spoon to remove.

Heat half the oil in a large deep-frying pan over high heat. Add the gnocchi, in batches, and cook, turning occasionally, for about 3 to 4 minutes, or until golden brown. Remove from the pan.

Heat the remaining oil in pan over medium high heat. Chop the stalks from the chard then add to the pan, season and cook for 2-3 minutes to soften. Add the garlic and tarragon and cook for 20 seconds with the pepper. Add the tomatoes, broad beans and zucchini flowers and cook for 2-3 minutes until the tomatoes collapse slightly. Add the gnocchi to the pan and squeeze over lemon, then remove from heat.   

Serve scattered with extra parmesan, season with black pepper and basil. 

 
Notes
Whip up this delicious vegetarian homemade gnocchi recipe, served with a cherry tomato sauce!