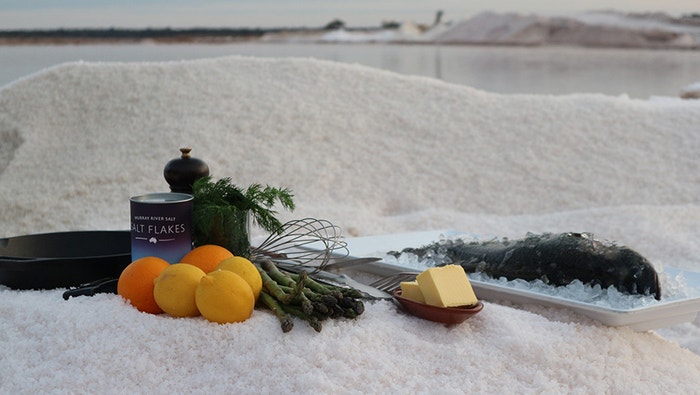 Steps
Preheat coals in fire pit or BBQ or preheat hooded electric BBQ to medium. If you're using an oven, preheat to 175C fan forced.
If you're using a BBQ, scatter enough rock salt into a cast-iron camp-oven to cover its base. Place half the citrus slices over the salt and top with the Murray Cod. Cover with remaining lemon and salt, leaving the fish's eye exposed. If cooking in an oven, complete same process using a deep baking dish with a lid.
Cook fish for 20-25 minutes, until the eye of the fish is white.
Whilst fish is cooking, heat half the butter in a saucepan over the fire/stove and sauté asparagus until charred. Season with salt and pepper and remove asparagus from pan.
Add remaining butter to the same pan, cooking until it turns brown and smells nutty. Then add lemon juice to stop the butter cooking, stirring to emulsify the sauce. Set lemon butter sauce aside, keeping warm, to prevent splitting.
To serve fish, peel away salt crust and using a knife and spatula, remove portions of fish to a serving plate.
Serve warm with grilled asparagus and a drizzle of the lemon butter sauce.