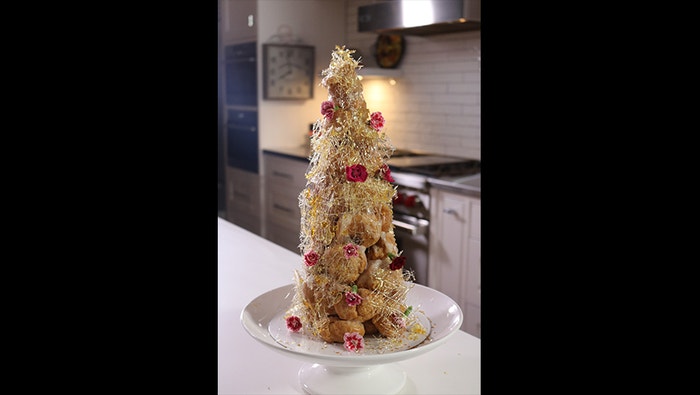 Steps
Preheat oven to 210C. Line two baking trays with baking paper.
Place water, butter, salt, sugar and scraped vanilla pod in large saucepan and bring to the boil slowly so butter is melted by the time the water boils.
Remove from heat and stir in sifted flour with a wooden spoon for about 1 minute, until well mixed and mixture starts to come away from sides of the pan.
Return pan to a low heat and cook for 2 minutes, stirring constantly, to allow some moisture to evaporate. Discard vanilla pod.
Remove from heat and transfer to the bowl of a stand mixer fitted with a paddle attachment. Begin mixing, gradually adding the eggs until well combined. This can also be done by hand with a whisk.
Scoop mixture into a piping bag fitted with a medium round piping nozzle. Pipe mixture onto trays in even rounds the size of a 10-cent pieces – the mixture should make around 50 profiteroles.
Dip your finger in water to smooth down the peak of the profiteroles to prevent them burning.
Bake in oven for around 15 minutes, until puffed and golden and then turn down to 170C and continue to cook for a further 12 minutes – to cook through without giving extra colour. Turn oven off and leave profiteroles inside with the door ajar for around 30 minutes. Transfer to a rack to cool.
Whilst profiteroles are cooling prepare the Chantilly cream. Place cream, sugar and vanilla scraping in. Whisk to stiff peaks. Fill piping bag with small piping nozzle with Chantilly cream.
Using a skewer or a knife poke a hole in the base of each cooled profiterole and fill gently with cream. Be careful not to overfill or cream can burst out of each profiterole. Repeat with remaining profiteroles.
To make the toffee place sugar and water in a pan over low heat. Once sugar has dissolved simmer for 5 or so minutes until it reaches a golden brown (until it reaches around 170C on a sugar thermometer).
Remove from the heat to cool slightly. Take the A2 piece of paper and roll into a cone shape, securing with sticky tape and a final staple if required. Take a length of baking paper, securing it in the same way and then fitting it nearly inside the cardboard cone.
Hold the cone upside down and put one small profiterole into the point of the cone with the profiterole's base face up. Dip two profiteroles into the toffee securing them over the first. Although it's tricky working at the tip of the cone it gets easier as the cone gets wider.
Work your way up the cone, packing the toffee-dipped profiteroles in firmly before proceeding to the next layer. Make sure the final layer forms a flat base for the cake.
Leave for 5 minutes to allow the toffee to set. Carefully invert the cone onto a 20cm cake board and remove the cone by cutting through the sticky tape and paper. Gently peel away the non-stick paper.
nce the tower is built, line a large chopping board with foil. Dip a fork into the remaining toffee, coating it well and then hold it above the foil covered board and flick it quickly but carefully from side to side – to produce delicate strands of toffee. Continue until you have formed a malleable sheet of spun toffee.
Using the heat of your hands shape the spun toffee around the croquembouche. Repeat with remaining toffee until you have covered croquembouche with a thin sheet of moulded spun sugar. Garnish with edible glitter and edible flowers if desired.
It is best to serve a croquembouche as quickly as possible as cream filling will soften profiteroles and croquembouche may start to collapse within a few hours.