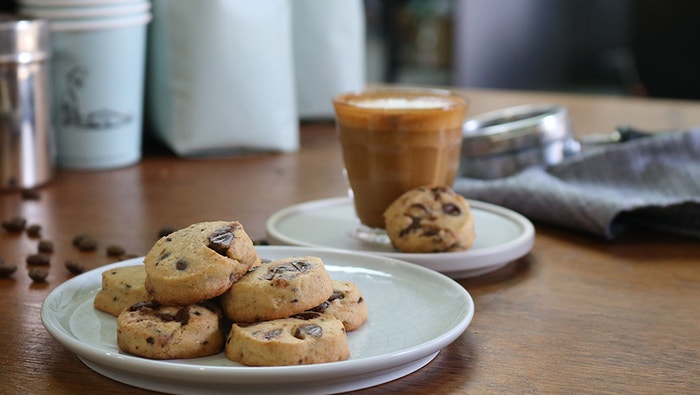 Steps
Using electric beaters, cream butter, sugars and coffee powder together until light and fluffy and powder has dissolved. Add egg and vanilla. Beat well.
Combine flour, baking powder and a pinch of salt. Fold the dry ingredients into the butter mixture until it just comes together. Fold in the chocolate chips.
Lay out a length of baking paper. Place cookie dough in centre of the paper, using your hands to shape it into a rough log. Fold baking paper in half over the dough.
Holding the bottom of the baking paper with one hand, press a pastry scraper into the crease that forms between the dough and the baking paper. Move the scraper back and forth to even out the cylinder until it has a diameter of around 4cm, leaving space at the end of the paper for wrapping.
Tightly wrap the baking paper around the cylinder and firmly twist ends together to form tight seal.
Chill dough in fridge for at least 30 minutes. Alternatively the dough can be frozen to use later.
Preheat oven to 180C.
Slice chilled dough into 2cm thick rounds. Line a baking tray and lay out dough slices, leaving some space between them, as they will grow during baking.
Bake for about 12 minutes, until lightly golden and cooked through.
Allow to cool for a couple of minutes before moving to a wire rack to cool.
Serve with a cup of coffee.