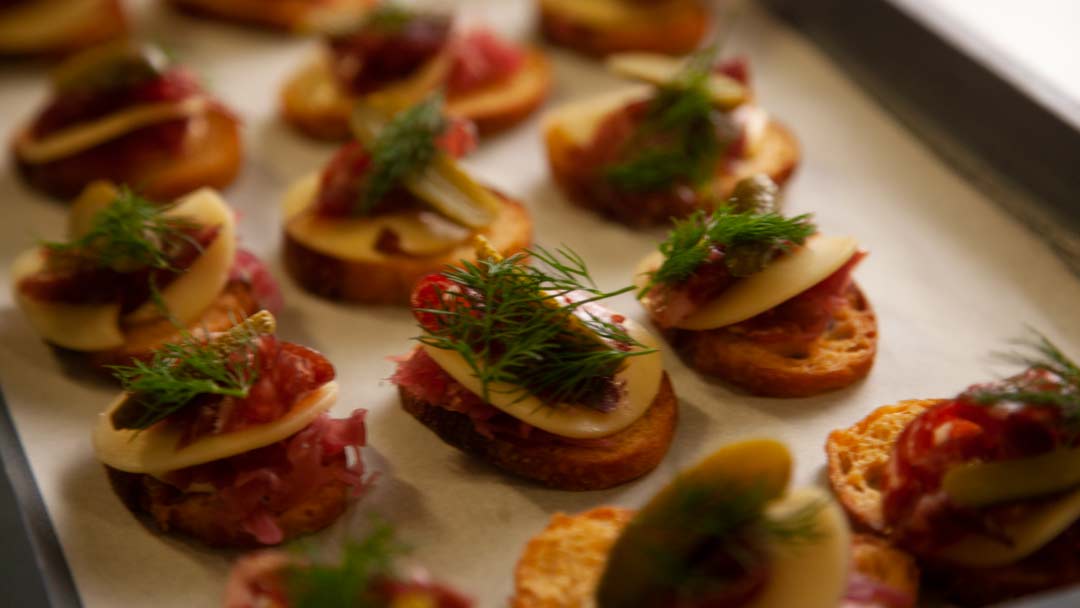 Ingredients
Horseradish & Mustard cream:
Steps
Preheat oven at 160'C, line 3 oven trays with baking paper.
For the horseradish and mustard cream: In a bowl add horseradish cream, mustard, sour cream and mayonnaise, whisk to combine well. Taste and adjust if required. Place in a piping bag and set aside.
Place sliced sourdough pieces onto oven tray and spray evenly with olive oil. Bake in oven for appox 8 –10 mins or until golden brown. Remove from oven and set aside to cool.
Cut swiss cheese into circles using a cookie cutter, approximately the same size as the rounds of toasted sourdough.
To assemble canapes: on serving platters, lay out toasted sourdough pieces. Place a small dot of Horseradish cream onto each piece. Top with a round slice of cheese. Place ½-1tsp of sauerkraut onto cheese, pipe on alarger dot of horseradish cream (approx. ½ tsp), secure torn Bresaola to cream on top. Add half cornichon and garnish with a sprinkle of fresh dill.