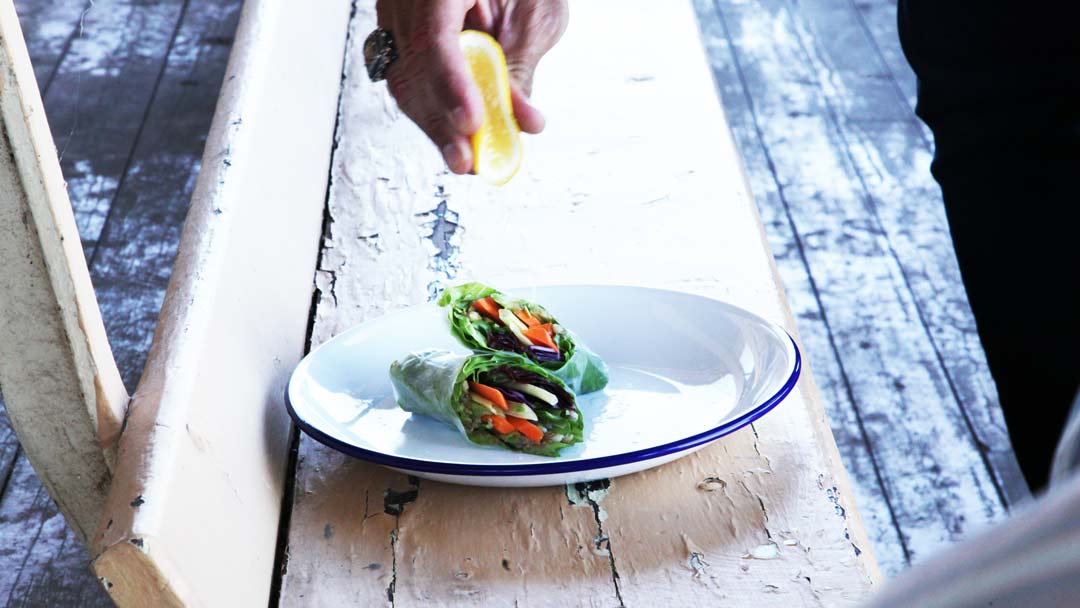 Steps
For the avocado curry cream: add all ingredients to a bowl and mash with a fork until smooth.
For the Chiko roll; it is important to have all ingredients prepared and ready to use.
On a chopping board, lay out two lettuce leaves, spread one tablespoon of avocado cream, and sprinkle over one tablespoon of cooked barley. Place 2 pieces each of the following prepared ingredients; celery, cabbage, carrot, green beans, yellow beans, spring onion and bresaola in the centre, the length of the leaves. Roll lettuce to encase ingredients. Set aside with seam on the base.
Fill a wide, shallow bowl with warm water, dip one rice paper wrapper into water, rotating to ensure it is evenly covered. Do this for only a few seconds. Place wrapper, shiny, smooth side down carefully onto a plate.
Lay lettuce bundle horizontally, seam side down, onto the bottom third of rice paper. Starting from the bottom, fold rice paper to cover bundle, then roll firmly to form a tight log. The damp rice paper will seal itself.
Repeat with remaining wrappers and ingredients to make 12 rolls.
Tips:
You can use any soft green lettuce leaves, white cabbage instead of purple, any type of deli meat in place of bresaola. In place of barley use any cooked grain such as rice or couscous
Dip rice paper in shallow water for only a few seconds. Rotate the wrapper in water to ensure it is evenly wet.