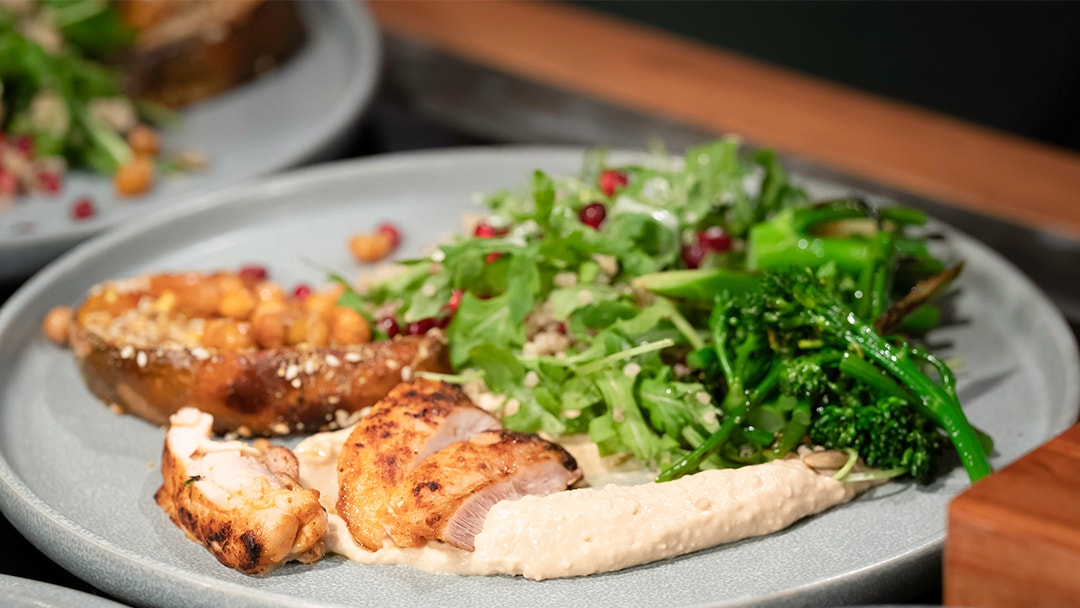 Steps
Preheat the oven to 200C (fan-forced). Line a large oven tray with baking paper.
Cut pumpkin into four x 2.5cm thick wedges. Arrange on prepared tray, drizzle with 1 tablespoon of the oil and season with salt and pepper. Roast for 35 minutes. Add the chickpeas and roast for a further 15 minutes, or until pumpkin is tender and chickpeas are crisp. Remove from the oven.
Meanwhile, combine quinoa and stock in a medium saucepan, cover with lid and bring to the boil. Reduce heat to low and cook for a 12 to 15 minutes, or until stock is absorbed. Remove from heat and stand 5 minutes before fluffing with a fork. Cool slightly, then stir in pepitas, pomegranate and rocket.
Combine chicken, harissa with 1 tablespoon of the remaining oil in a large bowl, season with salt and pepper and toss to coat. Drizzle the broccolini with remaining olive oil.
Heat an oiled barbecue grill plate over high heat. Add the chicken and broccolini. Cook for about 8 to 10 minutes, turning the chicken halfway and occasionally turning the broccolini, until the chicken is cooked through and broccolini is charred and tender. Drizzle with lemon juice.
Meanwhile, to make the dressing, place all ingredients into the beaker of a stick blender and blend until smooth. Season with salt and pepper.
To serve, dip pumpkin wedges into dukkah, to coat. Spoon hummus over the base of four serving plates. Top with the pumpkin, quinoa mixture, broccolini and chicken. Scatter with chickpeas and drizzle with dressing.