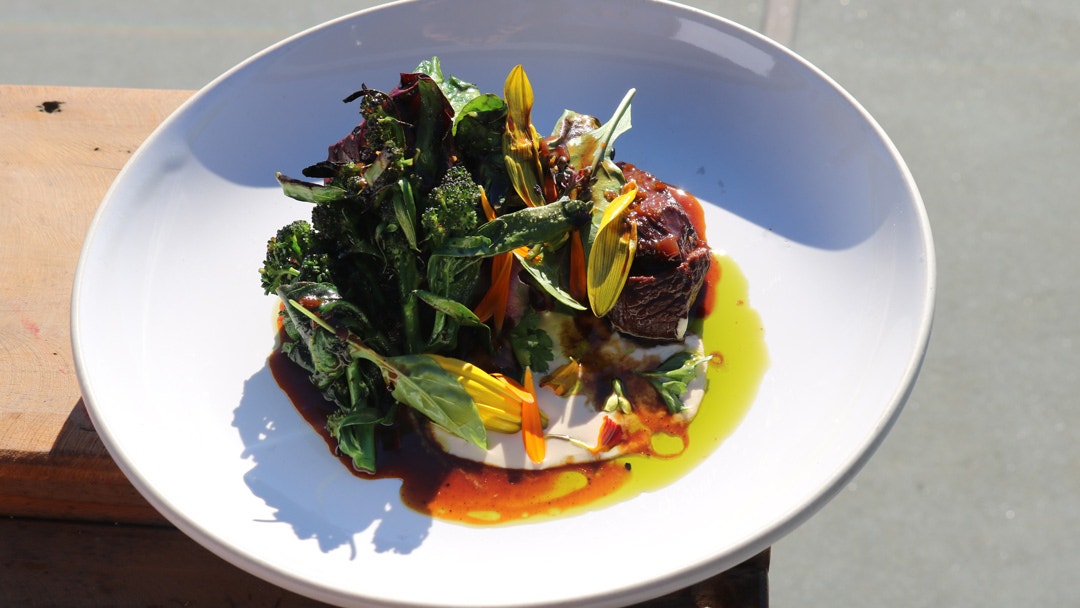 Steps
For the macadamia milk, add the nuts to a blender along with the vinegar, garlic and a pinch of salt. Start blending; as you slowly pour in the water. The key is to get it emulsified nicely by slowly adding the water. Store in the fridge.
For the bbq onion oil, chargrill the spring onions well. Place onion and other ingredients in jug and blend until smooth. Season with salt. Pass through a fine cloth-lined sieve into a jug.
Bring the kangaroo to room temperature; heat a grill over coals until hot.
Brush the kangaroo loin with the garum. Cook for a few minutes, turning occasionally to cook on all sides whilst brushing each side. Cook to rare. Rest on a rack place over a tray.
Lightly dress the greens in a medium bowl with oil and salt. Place greens on the grill and char slightly. Once the kangaroo is rested, carve into slices.
Spoon some macadamia milk onto the plate. Add the kangaroo and greens. Sauce with the pepper jus and onion oil. Add some fresh herbs and flowers to finish.
NOTE:
The glaze is a kangaroo garum' made from kangaroo offcuts. It's fermented and tastes almost like a fish sauce, substitute with a mushroom soy sauce.
If you cannot find Kangaroo loin you can substitute with lamb back straps in this recipe.