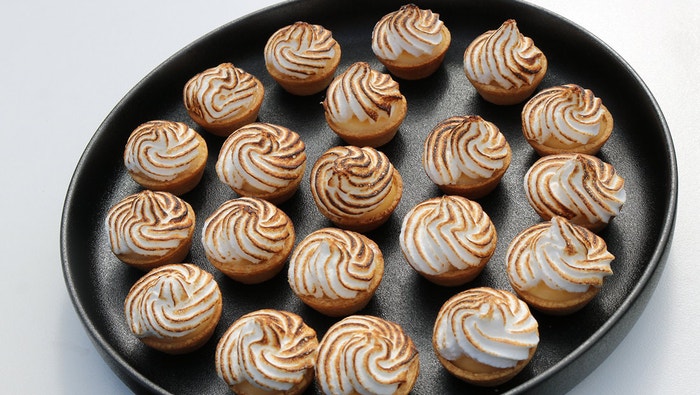 Steps
For the lemon filling, combine water, lemon juice, sugar and cornflour in a medium saucepan, stir to combine. Bring to the boil, stirring constantly, or until mixture is very thick. Remove from heat. Whisk in butter, yolks and lemon zest. Pour into a jug to cool.
For the Italian meringue. Put the egg whites in the bowl of a stand mixer.
Put the sugar and water into a medium saucepan and stir over medium heat until sugar dissolves. Bring to the boil, without stirring and boil for 5 mins or until mixture reaches 120C. Stand for 1 min.
Just before the syrup is ready, whisk the egg whites on high until firm peaks form. With the motor running on high speed, gradually pour the hot sugar syrup in a thin steady stream until combined. Continue to whisk for 5-10 mins or until meringue has cooled to room temperature.
Spoon meringue into a piping bag fitted with a star nozzle.
Spoon lemon filling among pastry cases and smooth tops. Pipe meringue over the surface of tarts to cover. Use a blow torch to lightly caramelize the meringue.