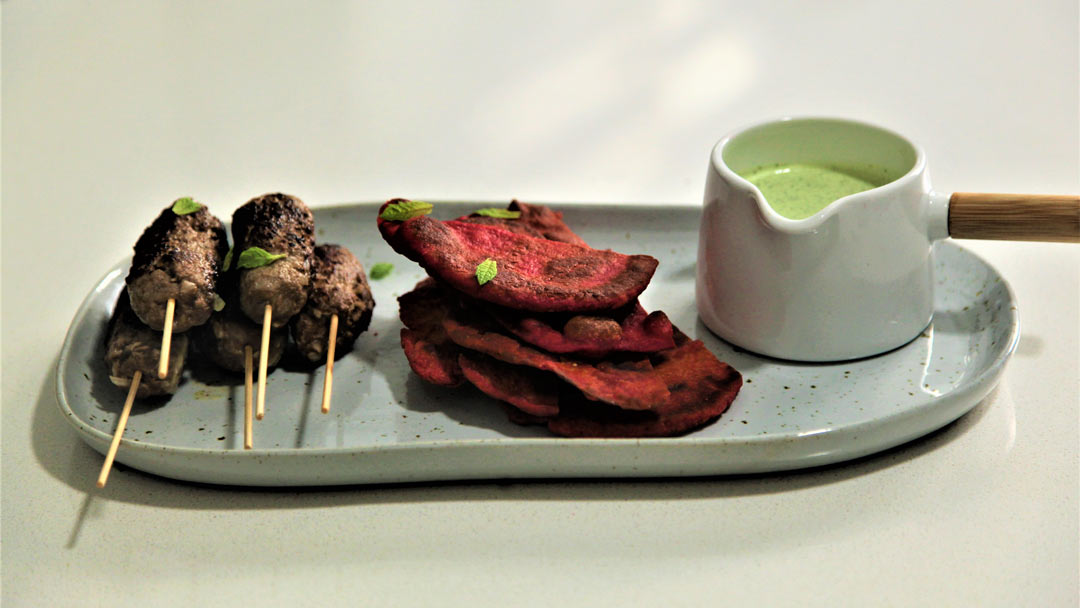 Steps
For the flatbread, preheat griddle on medium high heat.
Place diced beetroot and yoghurt into blender/nutrient blender and blitz until liquid. Transfer to a medium bowl and add flour. Bring together with a spatula until just combined, use your hands to form a dough ball. Add a little more flour if too sticky.
Pinch a golf ball size piece of dough and place on well-floured bench, roll into a ball. Flatten ball with palm of your hands, or floured rolling pin, dust with flour and turn flatbread over, press again with your palm making a 10cm flatbread. Spray flatbread with olive oil and place into preheated frypan/griddle. Cook for 1 minute or until char marks appear and bread begins to form bubbles. Spray with oil, turn flatbread and cook a further minute. Repeat with remaining dough.
For the Koftas, place ingredients, except oil, in a large bowl and mix well until combined. Divide mixture into equal pieces, with damp hands roll into the shape of a log, push onto skewers and repeat with remaining mixture.
Add 1 tbsp oil to preheated large frypan on medium heat. Cook Kofta in batches for approximately 5 minutes, turning to brown evenly and cook through. Remove from heat and aside on paper towel. Add remaining oil and repeat with remaining Kofta.
For the yoghurt, pick and roughly chop mint leaves, add to blender / nutrient blender. Add remaining ingredients, blend until combined and bright green.
Serve Flatbreads with Kofta, a dollop of yoghurt sauce and sprinkle of fresh mint leaves.