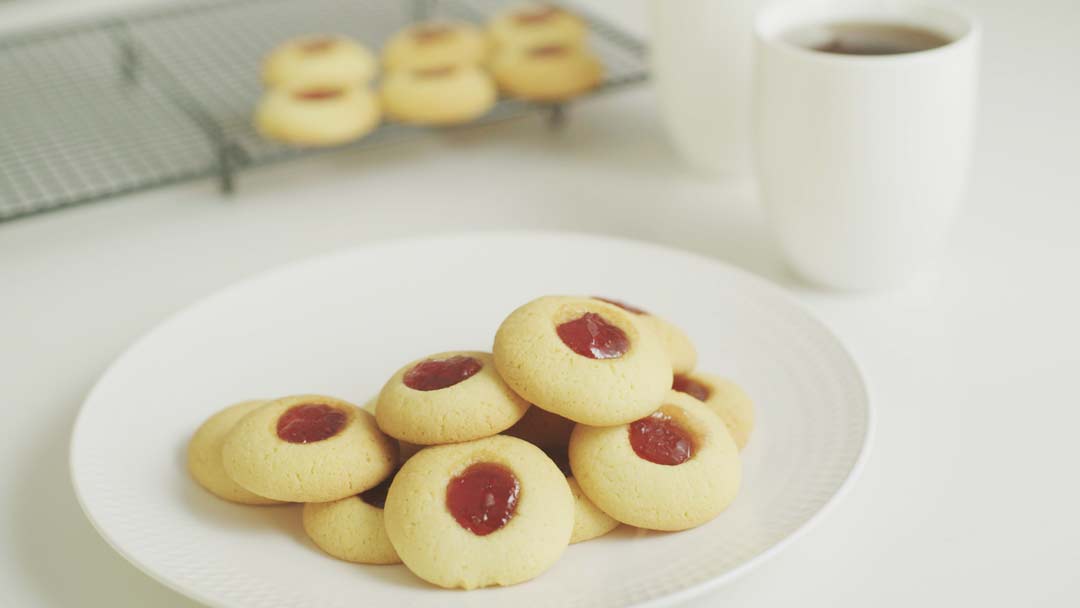 Steps
Preheat oven 190C
For the biscuits: In a stand mixer, cream butter and sugar together until sugar has completely dissolved and mixture is pale and creamy. Add eggs and gently whisk until combined.
Remove from mixer, sift flour over batter, add a pinch of salt. Using a spatula, fold flour through until just combined.
With lightly floured hands, roll teaspoonfuls of mixture into balls and place on lined baking trays. Using your finger, gently press each ball in the centre to make an indentation.Fill with jam using a piping bag.
Bake in oven for 15mins, until lightly golden. Remove from oven and allow to cool completely, approx. 20 min.
For the strawberry jam: In a deep, heavy-based saucepan add strawberries, sugar and lemon juice. Stir over low heat until the sugar is completely dissolved. Press any lumps of strawberry with a wooden spoon for a smoother jam.
Increase heat to high and bring the mixture to a full rolling boil. Boil, stirring occasionally, until the mixture reaches 105'C. This may take approx. 30mins. Test jam's consistency by dropping some jam onto a pre-chilled plate, it should form a wrinkly layer, feel sticky, and is beginning to firm.
Ladle jam into hot sterile jars, leaving 1cm from the top of jar. Seal jar immediately with lid and set aside to cool completely.
TIP: How to sterilise jam jars
Wash jars and lids in warm soapy water and rinse well.
Place on upright on a tray, lids on a separate tray and place into a cold oven.
Heat oven to 120C for at least 30min
Fill with jam and seal whist jars are still hot