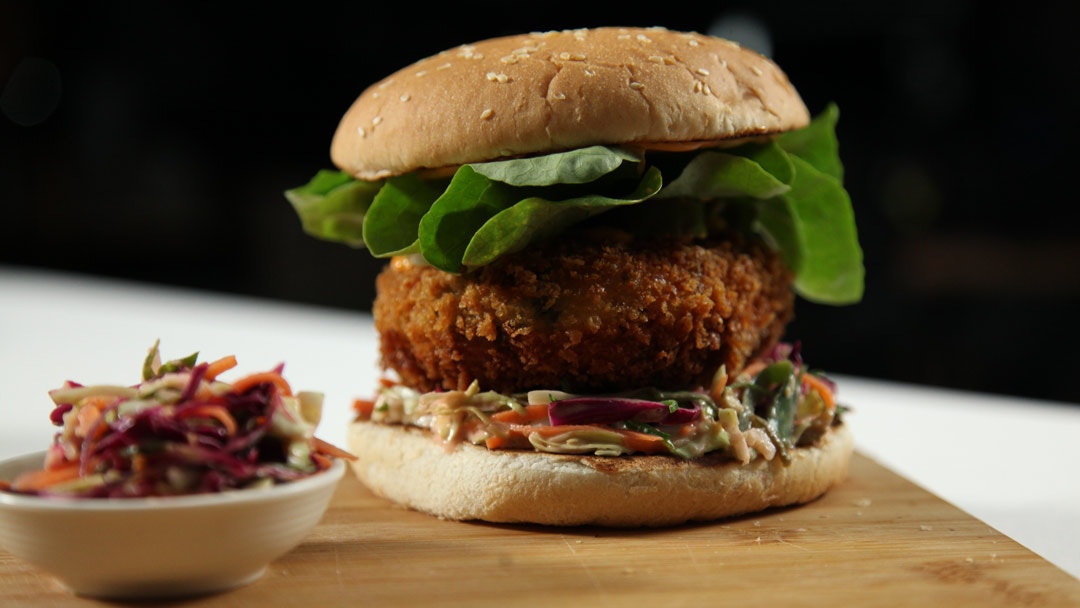 Steps
For the burger patties; In a large bowl, roughly chop barramundi, prawns, and chorizo and add to a large bowl. Add herbs, zest, salt, and pepper. Combine the mixture well, it should be sticky. Divide patty mixture into 4, shape into burger patties the same size as the buns.
For the coating, carefully place patty in flour, covering all sides, gently remove any excess. Then dip into egg mixture, covering evenly. Finally, dredge patty in panko crumbs, pressing to coat, ensuring it is completely and evenly covered. Repeat with remaining patties. Place on a tray, chill to firm.
For the slaw: add all ingredients to a bowl and toss to combine, set aside.
In a large frypan, add 2cm of oil and heat over medium heat or until a breadcrumb sizzles when dropped in. Gently place 2 patties into pan and fry approx 3 -4mins each side or until cooked through and golden. Remove from pan and place on paper towel to drain. Repeat with remaining patties.
To assemble, add a spoonful of slaw to the base of toasted bun, top with Barra patty, sliced jalapeno's, butter lettuce. Spread extra sriracha kewpie on the lid and close.
Tip: burger patties can also made in a food processor.