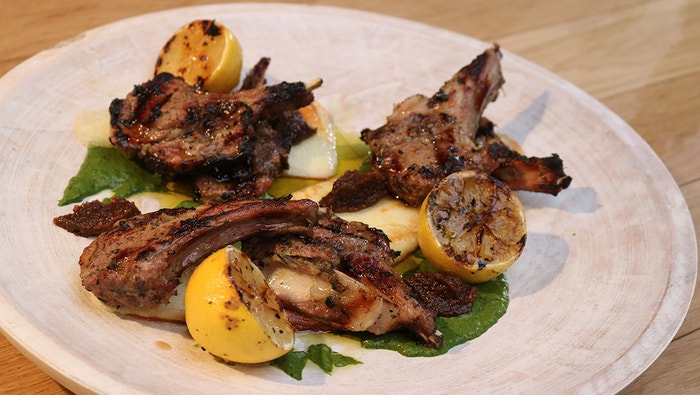 Steps
For the lamb, combine marinade ingredients in a bowl, season with salt and pepper then add the lamb chops and toss to coat. Cover and marinate in the fridge overnight or for at least for 2 hours.
For the horta puree, melt the butter in a large wide-based saucepan over medium heat. Add the eschallot and garlic and cook for 2 – 3 minutes until softened. Add the baby spinach and cook until completely wilted. Stir in blanched silverbeet and kale with the lemon juice. Spoon mixture into a blender jug and blend with the olive oil until smooth. Season to taste.
Remove the lamb from the fridge 1 hour prior to cooking.
Preheat BBQ or chargrill over medium high heat and cook the chops for 3 – 4 minutes a side or until slightly charred and cooked through. Add the lemons cut-side down as you turn the chops. Rest for 5 minutes.
Meanwhile, for the saganaki with peppered figs, heat a dry frypan over medium-high heat with no oil.
Spread a little flour onto a plate, remove the cold cheese from the packaging and coat well in the flour on both sides. Gently shake off excess flour and carefully place the cheese into the hot frypan At the same time, remove the peppered figs from the sachet and place into a small bowl. Microwave on high for 20 seconds or until warmed through. Cook the cheese until golden on one side, then carefully flip over and cook until golden on the other side and soft in the middle.
Serve lamb chops on a platter with the horta puree, saganaki, peppered figs and grilled lemons. Add a swirl of yoghurt through the horta puree if desired.