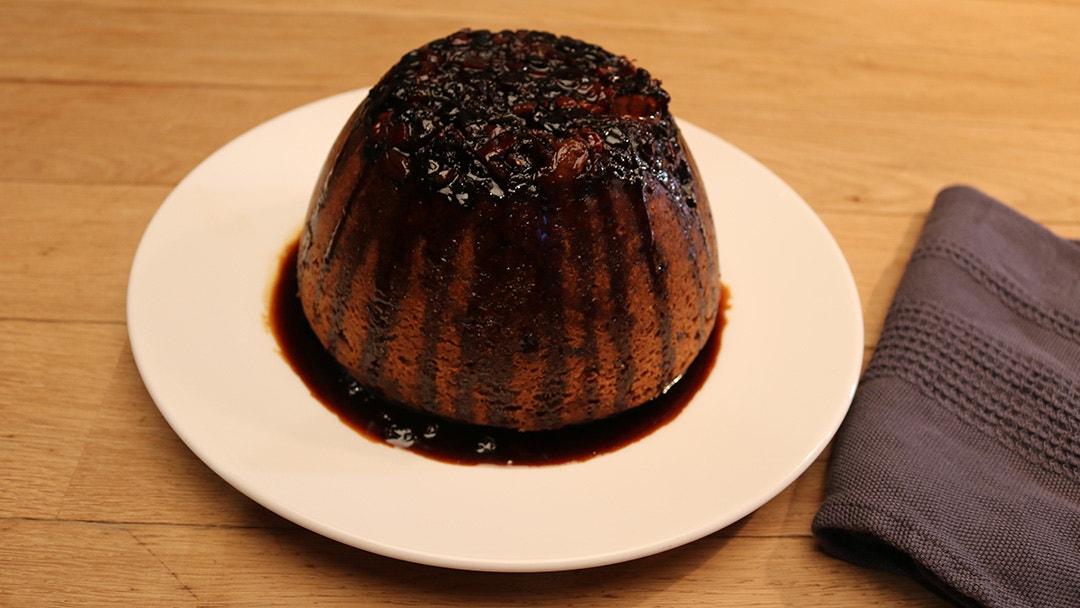 Steps
For the pudding, place dried fruit in a pot and cover with water, bring to the boil then remove from the heat. Allow the berries to steep for 10 minutes. Strain liquid from berries and place them onto a paper towel to dry. Set aside.
Soften half the butter and use to grease a 2 litre non-stick metal pudding basin. Combine the flour, suet mix, salt, baking powder, mixed spice and sugar in a large bowl, mixing well. Make a well in the centre.
Melt the remaining butter with 50g treacle, the lemon juice and zest. Pour into the flour. Gradually add the milk, stirring the mixture gently until just combined to form a soft cake mixture.
Place half of the dried fruit into the pudding basin and pour the remaining 50g of treacle over the top. Stir the other half of the dried fruit into the pudding mixture and spoon into the pudding basin.
Cut a 25 cm square each of greaseproof paper, then fold a pleat into the middle, which will allow the pudding to expand underneath. Place on top of the pudding. Secure the lid.
Select a pot, which is big enough to hold the pudding steamer comfortably with a lid on. Place an upturned saucer or small plate in the base of pot. Place the pudding steamer onto saucer in the pot and fill ¾'s with hot water. Place on to a low heat and allow to simmer gently for 2 hours until cooked. Check the water level now and again to make sure it doesn't burn dry. It's ready when you insert a skewer and it comes out clean.
For the sauce, place the treacle, butter and water in a small saucepan, bring to the boil then pour over the cooked, turned out pudding.