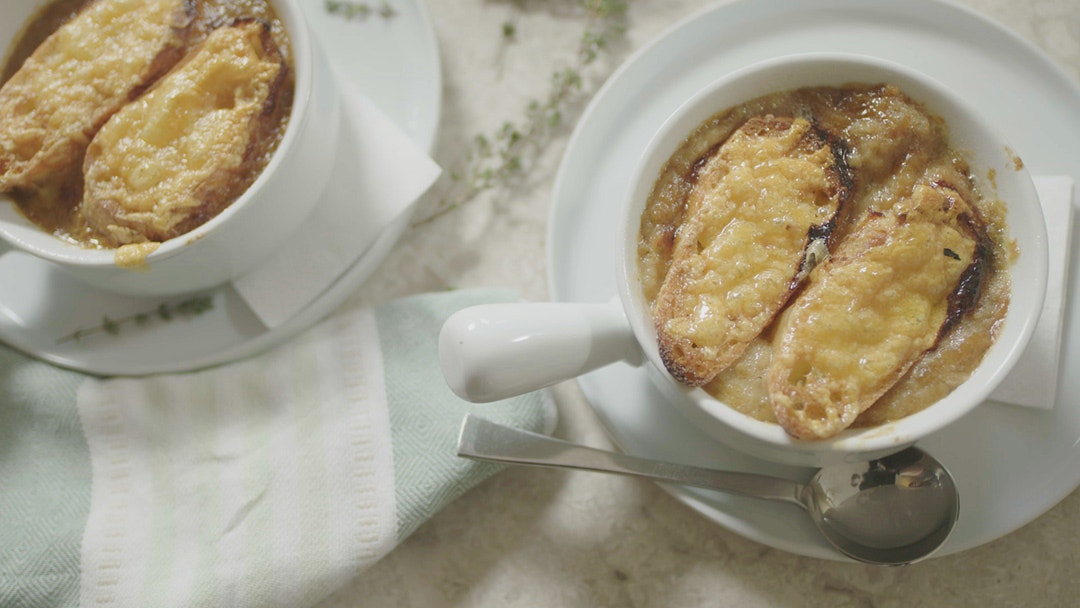 Steps
Sauté onions. Melt the butter in a large 28cm, wide heavy-based saucepan over medium heat, add onions, cover and cook, stirring occasionally, for 20 minutes or until onions are soft.
Reduce onions. Remove lid and cook for 1 hour, stirring occasionally, scraping the base of pan to loosen any caramelised bits or until soft and starting to caramelise.
Add stock. Add 1 cup of stock, and simmer for 5 minutes or until stock has almost evaporated.
Add herbs. Using kitchen string, tie herbs together, add to onions with remaining 3 cups of stock and season to taste with sea salt and freshly ground black pepper.
Bring to a simmer, scraping the base of pan, for 5 minutes or until thick.
Make toasts. Preheat oven to 200C. Place the bread slices on a baking paper-lined oven tray and toast under the grill until golden. Scatter with cheese and grill until cheese is golden.
Optional to serve. Remove herb bundle. Add 100g chopped butter and using a stick blender, puree the top layer of soup to make a creamier soup.
Serve it up. Ladle soup into bowls and top with baguette. Then place on oven tray and grill to warm through the cheese again. Serve immediately.