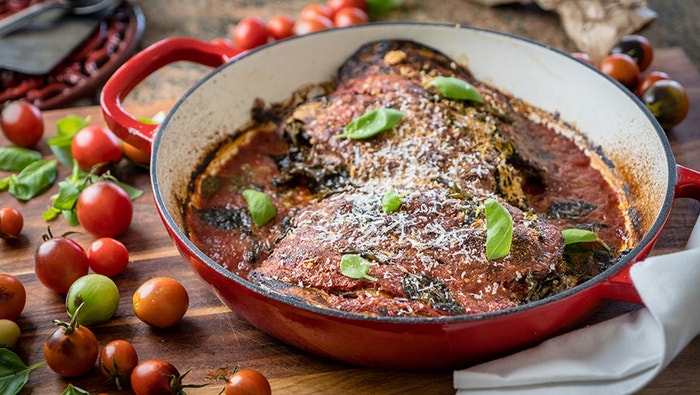 Steps
Preheat oven to 180 fan forced.
Score the sliced eggplant with a crisscross pattern, sprinkle with salt and set aside.
Meanwhile dip butterflied chicken in seasoned flour, shaking off excess. Then dip in the beaten egg and finally in the panko crumbs, pressing to stick.
Heat 1 tbsp butter and 1 tbsp oil in a large deep frying pan over medium heat. Add the smashed garlic clove, infusing the oil with its flavour. Fry 1/3 of the eggplant for 3 minutes on each side, or until golden and cooked through. Set aside and repeat with remaining eggplant, adding more oil and butter for each batch. Discard the garlic clove.
Clean out pan and heat 2 tbsp oil and 2 tbsp butter over a medium high heat. Cooked crumbed chicken in 2 batches for 2-3 minutes on each side until golden brown. Drain on paper towel.
Remove excess oil from the pan and then lay out the crumbed chicken on the base, top it with the eggplant, passata, grated parmesan and basil leaves. Season with salt and pepper and bake in oven for 15 minutes until golden brown.