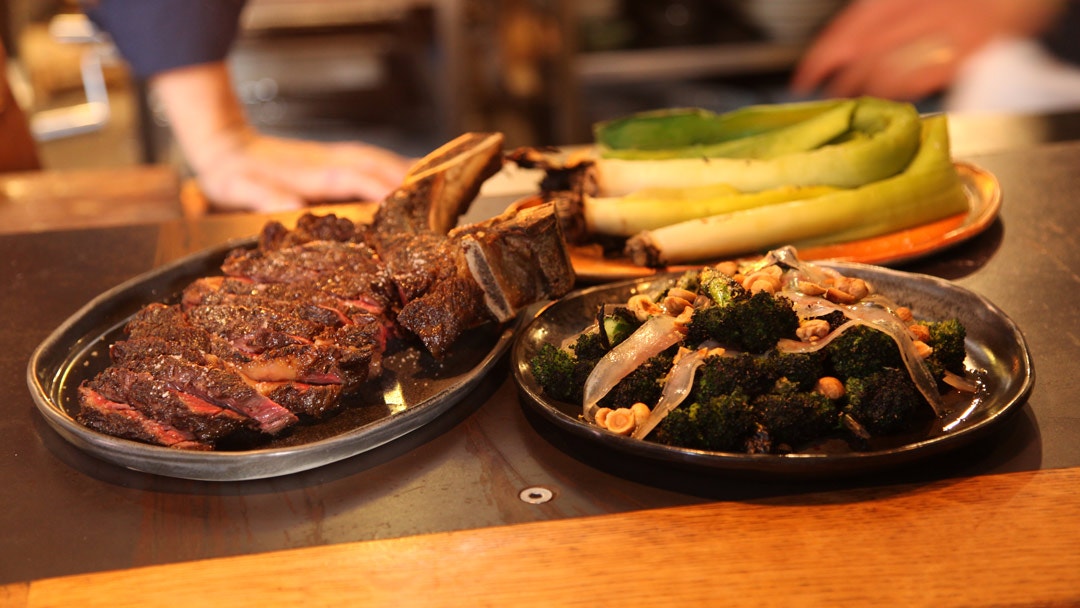 Ingredients
Chargrilled Purple Sprouting Broccoli
Steps
For the Beef; dependent on the size and cut of the whole rib-eye, ask your butcher to cut a good size steak at least 1-inch thickness.
Allow all your meat to come to room temperature.
Light your fire, burning your wood or charcoal down to intense embers. Ideally your grill should be approximately 10 cm (4 in) above the embers.
Hold the steak by the bone and brush the fat across the grill rack 3 or 4 times to baste and season the grill. The grill should be warm and not excessively hot.
Place the steak on the grill and immediately season well with good coarse sea salt, adjusting the height of the grill or the embers as necessary to ensure that the steak is only being licked by flames.
Grill for 6 -7 minutes, moving frequently to avoid bar marks but allowing the surface to caramelise to a rich mahogany. Turn the steak and season again. Continue to grill for a further 3-4 minutes for rare to medium-rare.
Remove the steak from the grill and allow to rest in a warm place for 8-10 minutes.
Refire the rib eye just prior to serving to bring some of the heat back into it and finish the crust. Rest for 1 minute prior to carving. With a sharp knife, remove the bone, trim the sinew line on the inside of the rib and carve into 6 mm (¼ in) slices. Finish with some sea salt and serve immediately.
For the Broccoli: split broccoli lengthways and place over prepared embers, season with salt and spray with oil. Turn as broccoli begins to colour. Remove from heat and place on a serving platter. Broccoli should be tender but firm.
Using a fine sieve or similar, toss Hazelnuts over embers until golden and roasted.
Combine sherry vinegar and olive oil, drizzle over broccoli, add roasted hazelnuts and top with guanciale, season with salt to serve.
For the Leeks; place whole leeks over embers, turning until leek is charred and starting to split. Remove from heat and wrap tightly in newspaper or baking paper to allow to steam and soften, set aside for 5 mins. When ready to serve, remove charred outside leaves and place whole leeks on serving platter. Season with salt and a drizzle of olive oil. TIPS:
Char vegetables and beef using a cake rack over embers for better temperature control.
Broccolini, cauliflower or brussels sprouts can be substituted.
Prosciutto, Jamonor pancetta can be substituted for guanciale.