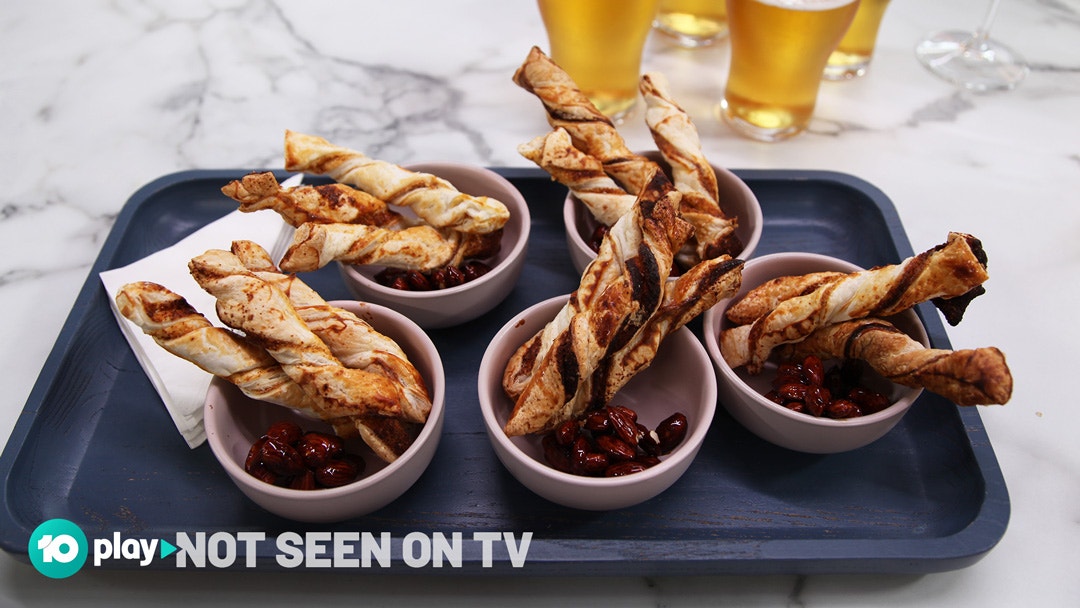 Steps
Cheese Straws
Preheat oven to 200C fan-forced.
Put the egg and egg yolk in a small bowl and whisk with a fork.
Put the parmesan, mustard powder, salt, and paprika in another small bowl.
Put the pastry sheets on a bench, brush with egg wash. Sprinkle half of each with cheese mixture. Fold over pastry to make a rectangle; press to seal. With short side facing you, cut dough crosswise into 2cm strips.
Place strips, among 2 baking paper-lined oven trays; twist strips, pressing down on ends to stick them to baking paper.
Bake for 8-10 mins or until cheese straws are puffed and golden, rotating trays halfway through.
Tamari Roasted Almonds
Preheat oven to 180C fan-forced. Spread almonds in a single layer on an oven tray, and bake until lightly toasted and fragrant, 5-6 mins.
In a medium bowl, combine tamari and maple syrup. Add almonds, and toss until thoroughly coated. Spray the oven tray with oil and spread almonds evenly on tray.
Roast in oven until deep brown, stirring once, 15 - 17 minutes. Immediately transfer to a baking paper-lined tray, and spread out almonds, separating so nuts don't stick to each other. Let cool before serving.