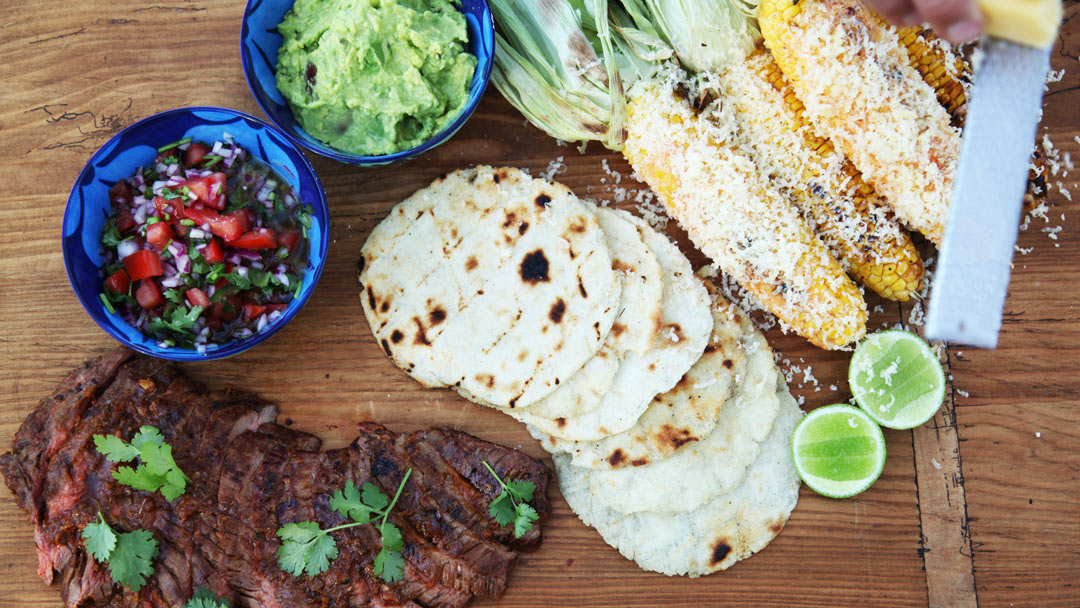 Steps
Soak cobs of corn in a large pot of water for 15 mins.
For the steak, add marinade ingredients to a bowl and combine. In a shallow baking dish, massage two thirds of the marinade over beef, set aside remaining marinade for drizzling when beef is cooked.
Remove corn from water, peel back husks on corn, keeping them in tact – this is your handle ! brush each cob in butter, salt and pepper place on grill, over indirect heat, away from flames. Turning corn regularly so husks don't burn. Remove from heat once tender, approx. 20 mins.
For the Smokey Guacamole, place jalapenos on grill, turning until blackened on all sides. Remove from heat. Using a teaspoon, scrape off blackened skin, discard seeds, stalk, membrane and finely chop. Cut avocado's in half and remove seeds. Scoop out flesh and add to medium bowl, roughly mash with a fork. Add charred jalapenos, lime zest, juice and finely chopped coriander to avocado. Transfer to a bowl to serve.
For the Tortilla's, Place masa flour and salt into a large bowl, combine. Add 1 cup of very warm water and stir until water is absorbed. Add remaining water incrementally until dough forms. On a board knead for a few minutes until dough becomes pliable. Pinch off a piece of dough and roll into a ball the size of a 50c piece. Place ball onto a sheet of lightly oiled baking paper, lay another sheet of oiled baking paper on top and press with a heavy baking dish or taco press to form flat tortilla. Remove baking paper and place on grill, over indirect heat for 30 seconds each side or until tortilla is lightly charred and little air pockets have formed. Remove from heat and keep warm wrapped in a clean tea towel. Repeat process with remaining dough.
To cook the steak, place marinated beef on grill and cook for approximately 4 mins each side or until medium- rare. Remove from heat and set aside on a clean tray and allow to rest.
For the Pico de Gallo, cut tomatoes in half, remove core and seeds with a spoon, discard. Finely dice tomatoes and place in a bowl. Add onion and jalapeno, toss together. Add lime juice and coriander, combine. Transfer to a bowl to serve.
For the corn, combine mayonnaise and smoked paprika in a bowl and brush all over cobs. Transfer to a platter and top with loads of finely grated cheese.
Slice beef, thinly against the grain, place on a serving platter and drizzle remaining marinade over the beef.