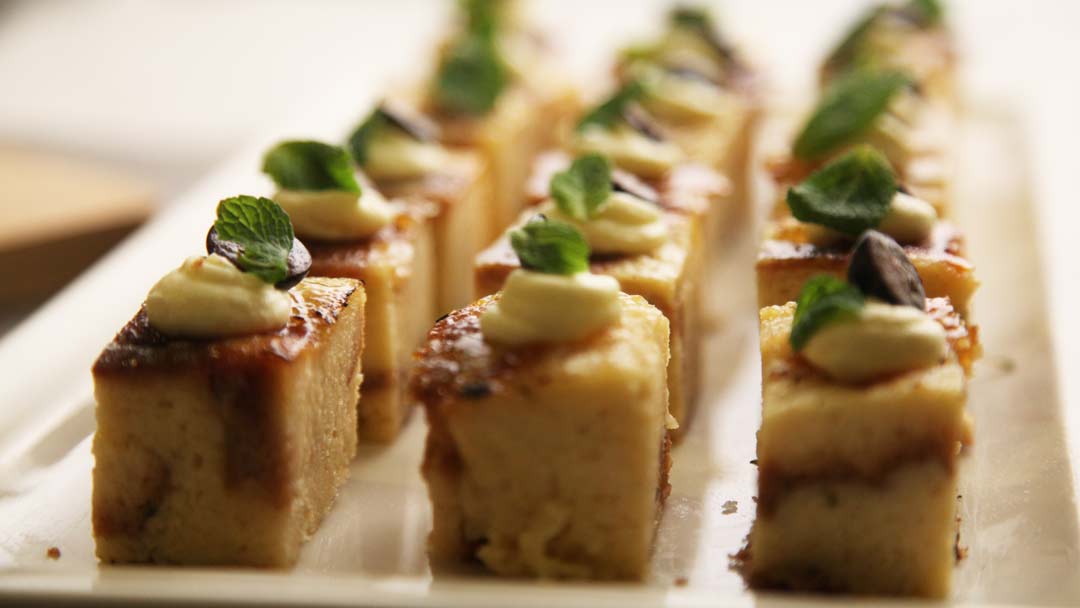 Steps
Preheat oven at 150'C
Lightly grease a 1.5ltr baking dish with butter.
Whisk milk, eggs, sugar, thyme leaves, vanilla seeds and sherry in a large jug until well combined. Slice and butter brioche into triangles and layer, overlapping into baking dish. Pour over milk mixture. Set aside to stand for about 25mins or until brioche is very soft and most of the liquid has been absorbed.
Cover dish with baking paper and tightly wrap with foil.
Place the pudding dish in a larger baking dish and pour enough boiling water into larger dish to reach halfway up the side of pudding dish. Carefully place in oven and bake for 35 - 40mins or until pudding is just set. Carefully remove pudding from water bath. Loosen foil and set aside to slightly cool.
To press pudding, use a similar sized weighted object on top of pudding and place in refrigerator to completely cool and compress pudding. This helps to hold it's shape for cutting.
Cut pudding with sharp knife or cookie cutter into bite sized pieces and place on an oven tray. Sprinkle pieces with additional caster sugar and cook under a hot grill, or domestic blow torch to caramelise sugar until golden brown.
Serve with a small dollop of mascarpone, a blueberry and baby mint leaf.