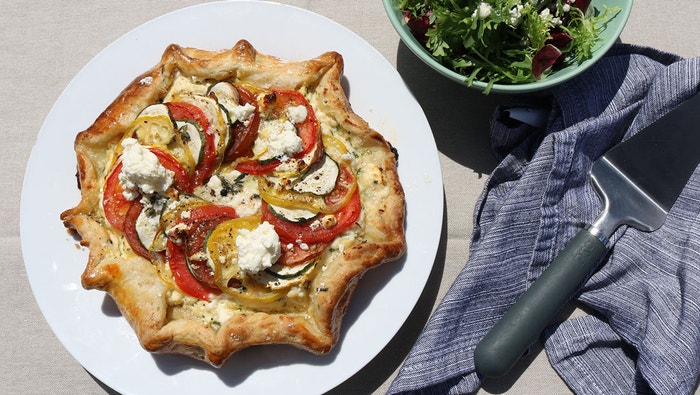 Steps
Preheat oven to 220C.
In a food processor blend flour, butter, feta, salt and chives together until the mixture has a breadcrumb-like consistency.
Add 2/3 of the egg yolk mixture and process until mixture begins to come together. Add more liquid if required.
Bring the dough together with your hands and gently knead on a floured surface until smooth. Shape into a disc, wrap in plastic wrap and chill in fridge for 15 minutes.
Whilst pastry is chilling make the cheese filling by combining ingredients to a chunky mixture. Season to taste.
Roll out chilled pastry onto lightly floured surface to a disc around 3mm thick. Transfer to a lightly floured oven tray. Sprinkle breadcrumbs over base, leaving a 5cm border.
Spread cheese mixture thickly over centre of the dough leaving a 5cm border around the outside.
Push the sides of the pastry up around the cheese filling, pinching to hold together.
Using a palette knife, flatten the top of the filling until level.
Arrange vegetables on top of the cheese filling in a spiral, alternating the sliced vegetables to cover the cheese. Drizzle with oil from the marinated feta.