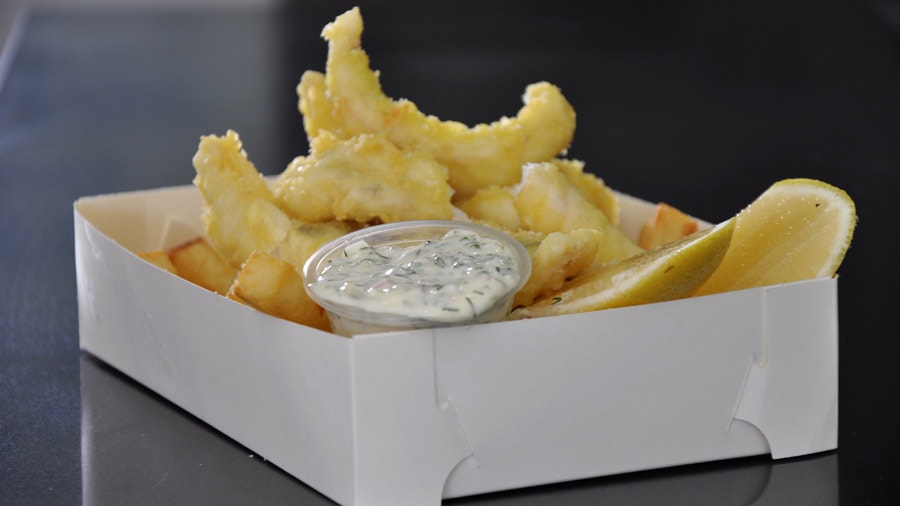 Ingredients
Bondi's Best Beer Battered Fish & Chips
Steps
Miguel's Tartare Sauce
In a large mixing bowl combine all ingredients.
Miguel's Mayonnaise
In the glass of a stick blender, crack egg, add olive oil, lemon juice and a pinch of salt.
Insert stick blender all the way to the bottom of the glass, blend until set and slowly remove blender up the glass until of mayonnaise consistency.
Once combined fold in all Tartare ingredients and serve.
Bondi's Best Beer Batter
Whisk all ingredients until smooth. Your battershould be thin but not to watery.
Place in fridge and allow to rest for 2 hours.
Handmade Chips
Peel potatoes and cut into thick long chips, about 15mm wide and as long as the potato will allow.
First blanch your chips at 160 degrees celsius for 5 minutes
Then turn the deep fryer off or pot of oil off and leave the chips to keep cooking for a further 3 minutes.
Take them out and place in the fridge to cool down until you're ready to use them.
Bondi's Best Beer Battered Flathead and Chips
You will need a plate with some plain flour to dust your flathead fillets.
Using your deep fryer at 185 degrees cook your chips for 3 minutes or until golden brown.
Take out and place on some paper towel.
Dust your flathead fillets with plain flour and place in batter.
Only fry half the amount of flathead at one time to leave room in the fryer.
Take the fillets out of the batter one at a time using the side of the bowl to wipe off excess batter.
Fry for 2-3 minutes depending on the size and thickness of yourfillets.
Place on a plate with paper towel.
Repeat with the rest of the flathead.
Notes
Serves 4. Best served on large platters with an ice cold beer.