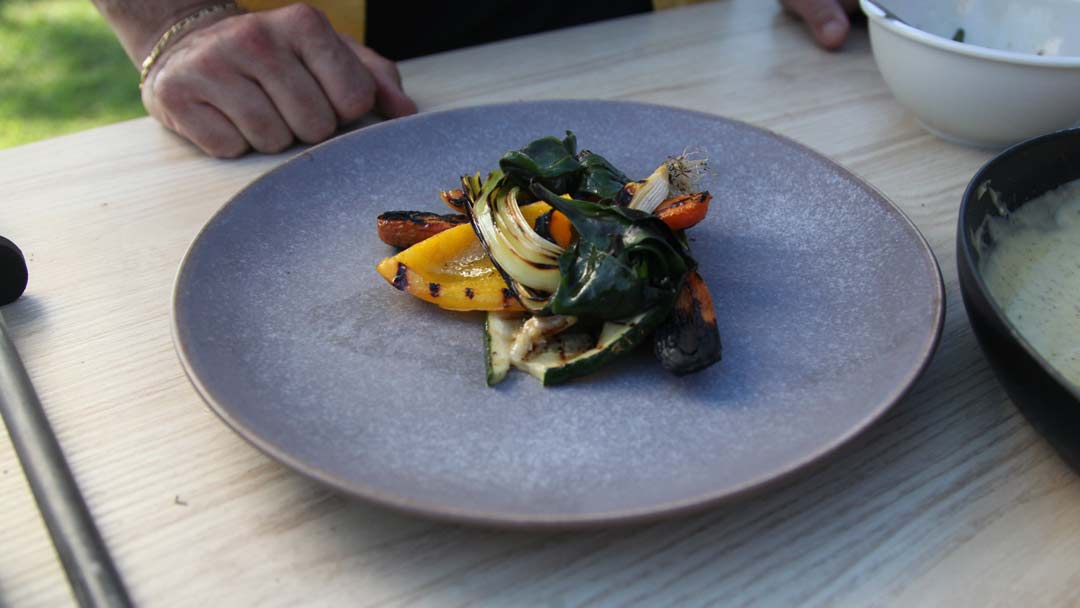 Ingredients
Lemon Myrtle Butter Sauce
Steps
For the Snapper; Preheat chargrill or bbq to medium high heat. Place saltbush & lemon myrtle leaves over the coals or grill, top with lightly oiled snapper fillets and cook, skin side down for 4-5mins, turn fish and cook for a further 2 -3mins, or until just cooked through. Remove from heat and set aside to rest. Discard leaves.
For the vegetables; place prepared vegetables, spices & oil in a bowl, toss and place on grill. Cook turning until vegetables are tender and slightly charred.
For the sauce; preheat frypan over medium heat. Add eschalots and oil, cook until softened and translucent. Add vinegar, wine and lemon myrtle leaves, cook until reduced by two thirds. Strain into jug, discarding solids and return liquid to frypan. Reduce heat to medium-low, add chilled butter a few cubes at a time. Continuously whisking to incorporate until sauce has thickened and is glossy. Remove from heat and pour into a jug.
For the warrigal greens; using the same frypan, add butter and olive oil over medium heat, add greens and toss until wilted, remove from heat and set aside.
To serve; on serving plates, place greens and chargrilled vegetables, top with snapper, skin side up and drizzle with sauce.
Tip: garnish with sprigs of Samphire, Karkalla and crushed, toasted Macadamia's for some crunch!
Notes:
Warrigal greens can be substituted with baby spinach.
Ground lemon myrtle can be substituted with lemon pepper or lemon zest.
Fresh Lemon myrtle leaves in the sauce can substituted with a piece of lemon or a squeeze of juice
Ground pepperberry can be substituted peel with lemon pepper or white pepper