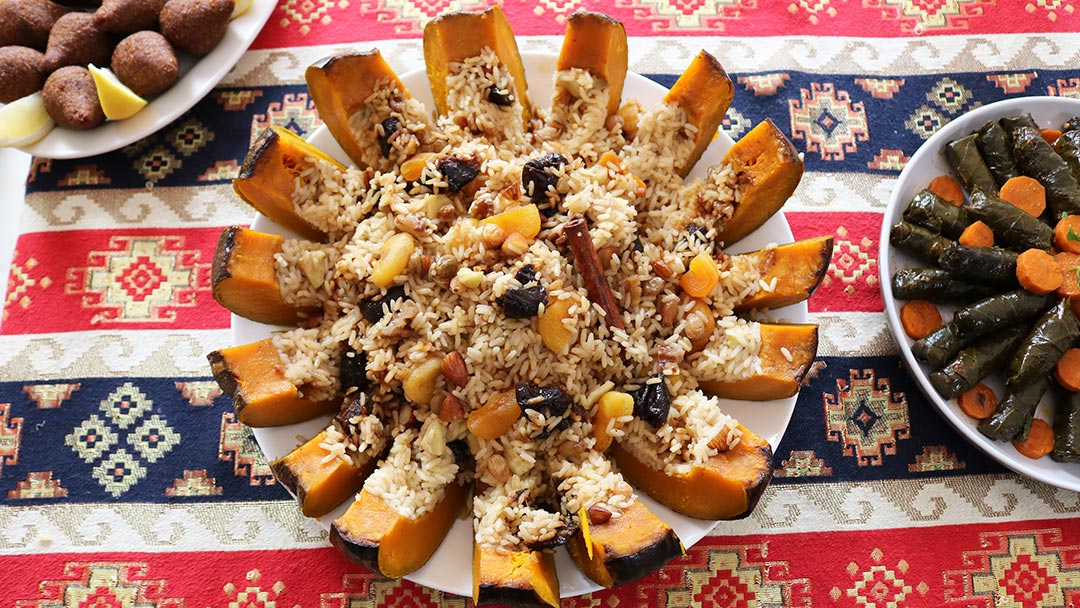 Steps
Preparing the rice
Pour the boiling water over the rice and simmer over a low heat until nearly cooked. This should take about 4-7 minutes depending on the type of rice. Keep in mind that the rice will keep cooking whilst the pumpkin bakes.
Strain and return the rice to the hot pot. Add the salt and melted butter, stirring gently until evenly combined.
Preparing the pumpkin
Using a sharp knife cut out a round-shaped lid off the top part of the pumpkin. Scoop out the seeds and the fibrous parts of the pumpkin cavity.
Use a spoon to scrape some of the flesh off the pumpkin if the cavity is small and the walls of the pumpkin are too thick.
Coat/massage the walls of the cavity with some butter and honey. Set the pumpkin aside.
Preparing the fruit mixture
In a frying pan sauté the fruit, nuts and spices with the coconut oil and butter.
Add the diluted honey and heat for a further minute. Cover the pan with a lid to keep warm.
Stuffing the pumpkin
Preheat oven to 170 degrees.
Spoon one layer of rice into the pumpkin and add a layer of the fruit-and-nut mixture. Repeat until both are used up.
Warm the additional honey in the microwave for 25 seconds and dilute it with a quarter cup of boiled water.
Pour the diluted honey into the pumpkin over the rice mixture. Insert the cinnamon quill into the centre of the pumpkin. Place the "lid" back on the pumpkin.
Place the pumpkin on an oven-proof tray that is bigger than the pumpkin to make it easier to plate whilst hot.
Bake in the oven at 170 degrees for about 1 hour and 30 minutes or until cooked through. Test doneness by inserting skewer vertically near the lid of the pumpkin so that the liquid doesn't leak out.
Before serving, allow pumpkin to cool to a manageable temperature. You will get the best flavour and texture if you leave it in the oven to cool slowly for 5-6 hours.
Open the lid of the Ghapama and remove the cinnamon quill. Use a sharp knife to slice the pumpkin along its grooves into segments. Fan it out onto a platter like a lower. Enjoy as a side dish, dessert or as brunch.