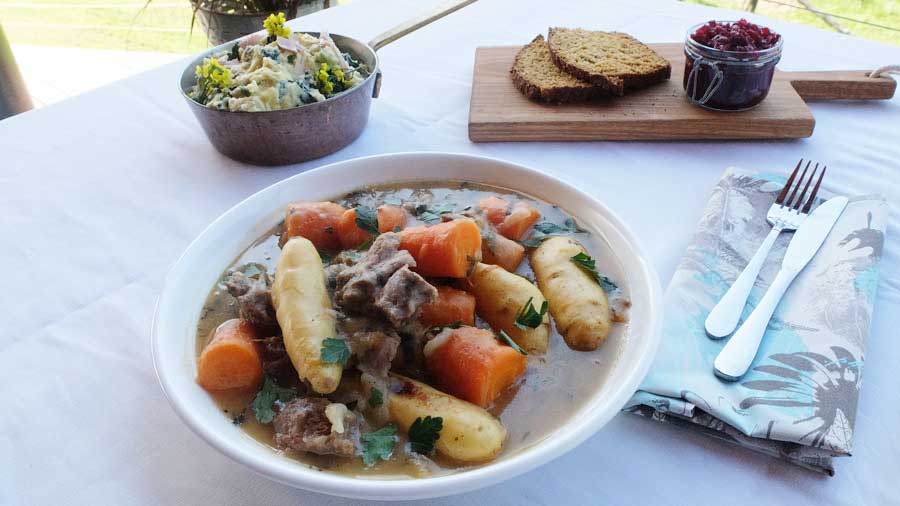 Steps
Cut the lamb into large pieces. Peel potatoes, keeping both types separate, and cut into similar size pieces as the meat. Peel the carrots and cut into slightly smaller pieces. Slice the onions into thick wedges.
Put the lamb in a large, clean saucepan. Pour in the stock and bring to the boil, skimming off the impurities from the surface. Reduce the heat, cover and simmer gently for 10 minutes. Add the Dutch cream potatoes, carrots and onions. Season generously and simmer for 20 minutes, stirring occasionally.
Add the kipfler potatoes, parsley and thyme. Simmer for 1 hour until the lamb is tender. Season to taste, remove from the heat and set aside, covered, for 15 minutes.
For the colcannon cook the potatoes in salted boiling water until tender, drain well and return to the pan.
Heat the olive oil in a large frying pan over medium-high heat. Add the leeks and cook for 2 minutes. Add the kale and cook for a 1-2 minutes until wilted. Remove from the heat.
Return the potatoes to a low heat, add the milk, crème fraiche and butter. Season to taste and roughly mash. Add the wilted greens and ham and mix to combine.
Scatter parsley over the stew and serve with colcannon.
Notes
Recipe courtesy of chef Alastair Mcleod. For further information head to: www.alastairmcleod.com