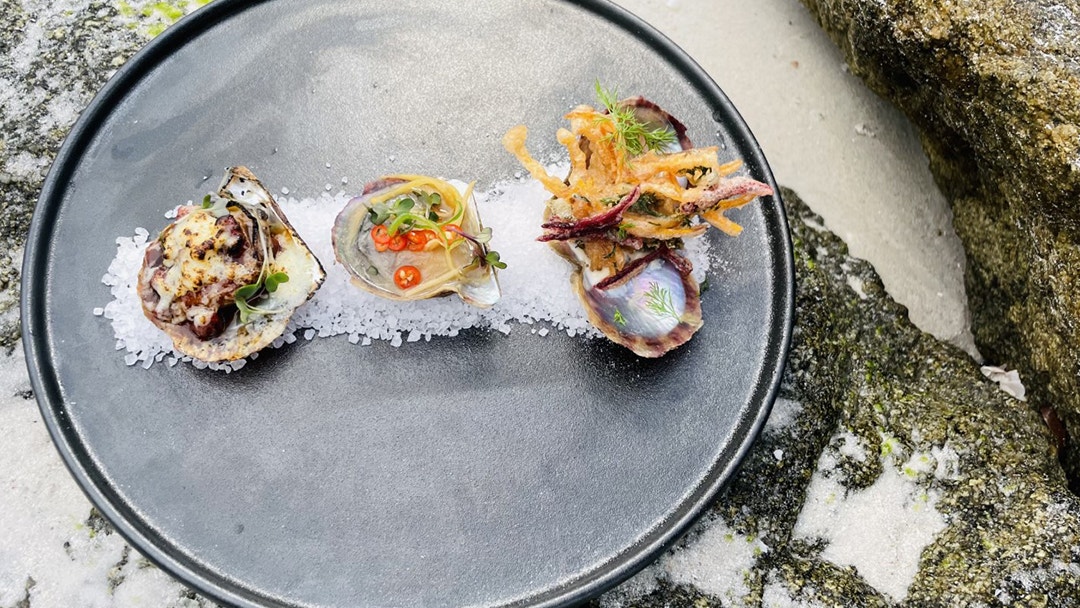 Ingredients
Miso, Sake and Ginger Pickle
Steps
To make the tempura Akoya, pour the oil for deep-frying into a medium saucepan over medium-high heat and heat to 180C.
Pour the chilled water into a medium bowl and add the tempura batter mix. Whisk to combine, without over-mixing.
One at a time, place the Akoya in the tempura and top with a little carrot, beetroot, mushroom and dill. Coat in tempura, then use two spoons to carefully drop into the oil. Deep fry for 2 to 3 minutes, or until crisp and golden. Remove and drain on paper towel.
Mix together the mayonnaise, cornichons, lemon juice and remaining chopped dill. Season with salt and pepper. Put a dollop of tartare sauce in the Akoya shell and top with a tempura.
To make Akoya diablo, heat oil in a medium frypan over medium to high heat. Cook the chorizo, stirring occasionally, for 1 to 2 minutes, or until golden and crisp. Add whisky, then carefully tilt the pan to catch the flame and cook for a further 1-2 minutes, or until the alcohol evaporates and flame disappears. Add sauce and stir to combine. Add the Akoya and remove the pan from the heat.
Spoon Akoya into their shells, then scatter with the cheese. Brown tops using a blow torch. Garnish with micro herbs.

To make pickle, combine rice wine vinegar, ponzu sauce, sake, miso and sugar in a medium saucepan over a medium to high heat. Whisk until sugar is dissolved, then bring to the boil. Stir in the ginger then remove from the heat. Pour pickling liquid into hot sterilised jars and add the Akoya. Seal and keep in the fridge for up to one week. To serve, arrange the shells on a serving platter on top of rock salt. Spoon in the Akoya and a little pickling liquid. Garnish with onion and chilli.