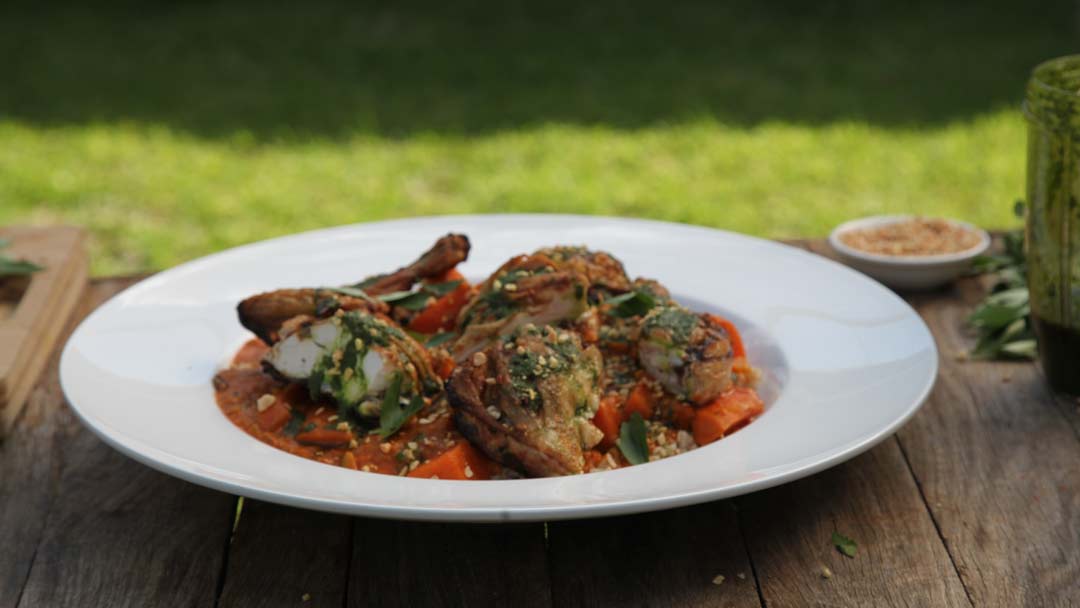 Ingredients
African Sweet Potato Curry
Sweet Potato Leaf Dressing
Steps
Preheat BBQ to medium-high heat.
For the chicken, combine garlic, spices, salt, pepper and oil in a small bowl. Score butterflied chicken with a knife and rub spice mix over chicken and into the slashes.
Place chicken on BBQ, skin side up, close BBQ lid and cook for 10 mins. Reduce heat to medium and cook with the lid down a further 20 – 25 mins or until cooked and juices run clear. Remove from heat and allow to rest.
For the curry, in a large, heavy-based pot over medium heat, add cumin, coriander, cayenne and curry leaves. Shake the pan to toast the spices evenly. Once aromatic remove from the pan and set aside.
In the same pot heat oil add onion, grated turmeric, garlic, ginger, jalapeno, toasted spices, cook, stirring for 2 mins. Add tomato paste, peanut butter and sweet potato, stir to combine. Add stock, cover, and bring to the boil. Reduce heat to medium-low, cover with lid slightly ajar and cook until sweet potato is starting to become tender, approx. 25 mins, stir occasionally.
To thicken the curry, gently mash some of the sweet potato with a wooden spoon, remove lid and cook a further 10 mins until slightly thicker.
For the sweet potato dressing, place all the ingredients in a blender or bowl of a small processor and blitz until combined. Taste for seasoning and add more salt and /or lemon to your taste.
To Serve: place curry in a large serving bowl and top with pieces of chicken, drizzle sweet potato leaf dressing. Sprinkle with crushed roasted peanuts and sprigs of coriander. Serve with brown rice.