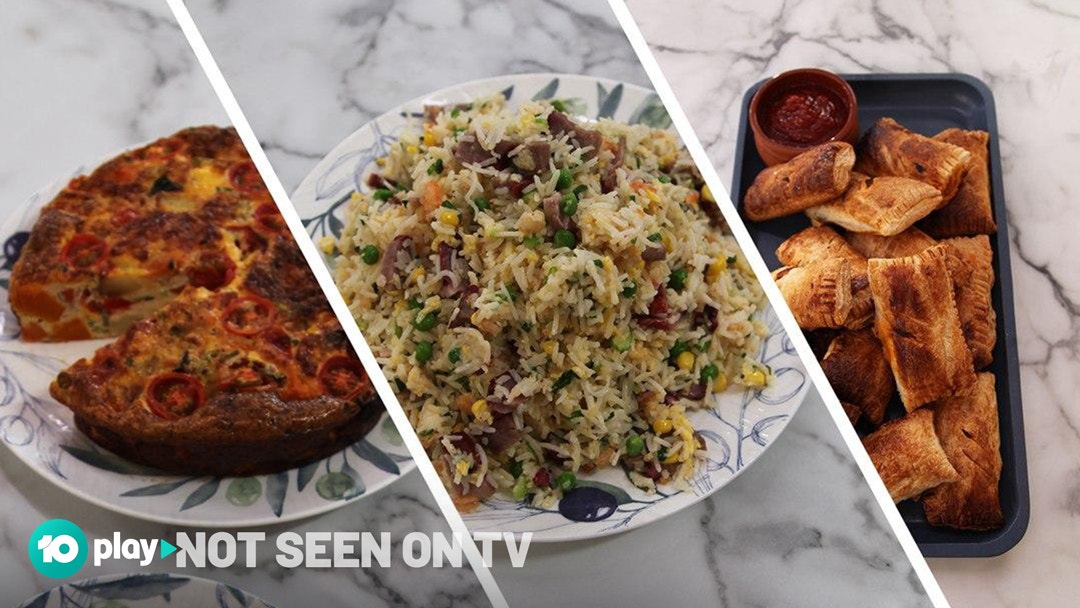 Ingredients
Roast Vegetable and Parmesan Frittata
Steps
Roast Vegetable and Parmesan Frittata – Leftover roast vegetables
Preheat oven to 160C fan-forced.
Grease a non-stick 20cm round cake pan or round cast iron frypan with spray oil.
Put the eggs in a large bowl and whisk with a fork. Add cream, parmesan, paprika and basil. Season with salt and pepper. Stir in vegetables. Pour mixture into prepared pan. Scatter with tomatoes.
Transfer to oven and cook for 20-25 mins or until eggs are set and top is firm. Stand in pan for 15 mins before turning out onto a serving plate.
Serve frittata with sweet chill sauce and salad.
Fried Rice - Left over boiled rice
Put the eggs in a bowl and whisk with a fork.
Heat the wok over high heat and add 2 tablespoons oil. When the oil is hot, add the onion, corn and rice. Stir-fry over high heat for 2 mins. Add the eggs, stir-fry to combine. Add the peas, pork and prawns and stir-fry for 2 mins or until well combined and heated through. Season to taste. Serve immediately.
Beef Hand Pies – Leftover Bolognese
Preheat oven to 200C fan-forced.
Cut each sheet of pastry into 4 squares. Working with 1 pastry square at a time, brush the edges with beaten egg wash.
Spoon 2 tablespoons of bolognaise onto one side of pastry square, scatter with some cheese then fold pastry over so corners meet to form a rectangular parcel. Press edges with a fork, to seal well. Place on a baking paper-lined oven tray. Brush the tops with beaten egg wash to glaze and cut a small slit in the top of each pie to vent steam.
Transfer trays to the oven and cook for 20 minutes or until pastry is golden and cooked through.
Serve with tomato sauce and a green salad.