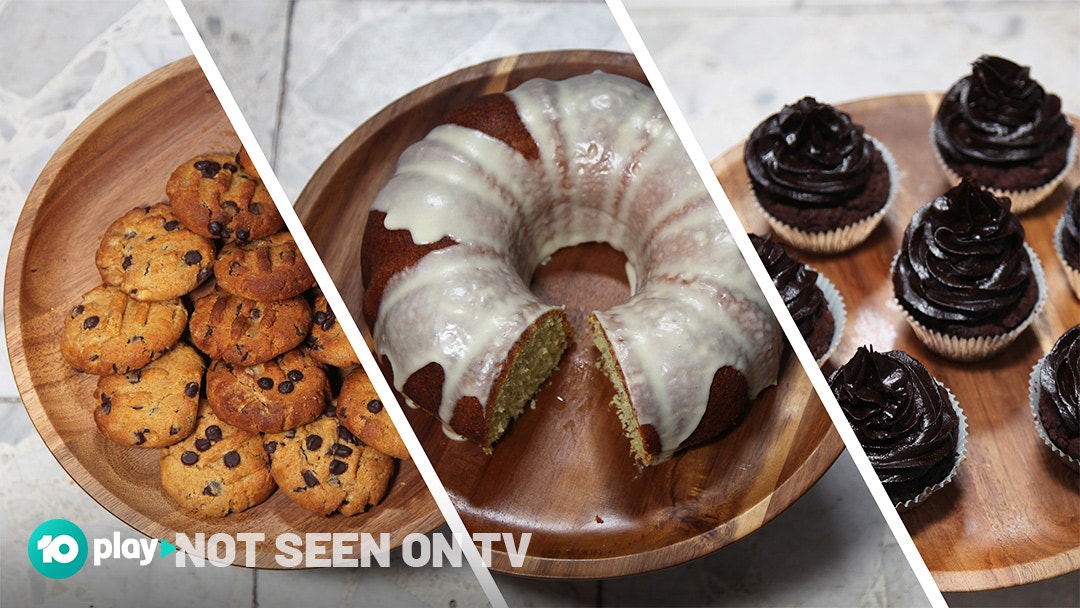 Ingredients
Choc Chip Gingerbread Biscuits
Chocolate Cupcakes & Chocolate Frosting
Chocolate Avocado frosting
Steps
Choc Chip Gingerbread Biscuits - Sweet Potato
Peel and cut sweet potato into 2cm chunks. Put in a saucepan and cover with cold water. Bring to the boil, cook for 12-15 mins or until soft. Drain well. Return to pan and mash until smooth. Measure out 2/3 cup mash and refrigerate until chilled. Use any remaining mash for another use.
Preheat oven to 180C fan-forced.
Put the measured mash into a bowl and add oil, golden syrup, mixed spice and ginger. Mix until smooth.
Put the flour, bicarb soda and brown sugar in a bowl and mix well. Fold flour mixture and chocolate chips into sweet potato mixture until just combined.
Preheat oven to 180C.
Line 2 oven trays with baking paper. Roll tablespoons of dough into balls and place on prepared trays. Press down to flatten slightly and smooth out edges.
Decorate with extra chocolate chips by pressing them on top of each biscuit.
Cook for 8 to 10 minutes or until firm and golden. Transfer to a wire rack to cool completely.
Lemon Drizzle Cake - Zucchini
Preheat oven to 170C fan-forced. Grease a 24cm Bundt pan with spray oil.
Put the sugar and lemon zest in a large bowl and stir to combine. Add the oil, eggs, lemon juice, and vanilla and mix with a hand mixer or hand whisk until combined. Stir in zucchini.
Gradually add the flour mixture to the wet ingredients and mix until just combined.
Spoon batter into prepared pan. Bake for 45-50 minutes or until a skewer inserted comes out clean. Allow cake to cool for 10 mins, put onto a wire rack to cool completely.
For the icing. Put the melted butter, icing sugar, vanilla and lemon juice in a small bowl. Whisk until smooth and drizzle over cooled cake.
Chocolate Cupcakes with Chocolate Frosting - Beetroot with an Avocado Frosting
Preheat the oven to 180°C. Line a 12 hole muffin pan with cupcake papers.
For the cupcakes. Put the flour, sugar, cocoa, baking powder and bicarb in a large bowl. Mix well. Add beetroot puree, melted chocolate, oil and milk. Mix until smooth. Spoon among cases and smooth tops.
Bake for 15-20 minutes or until tops are dry and firm to touch. Allow to cool. Transfer to a wire rack to cool completely.
For the frosting. Put the avocado, cocoa, dates, icing sugar and oil in the bowl of a food processor and puree until it is as smooth as possible. Remove lid and scrape down sides with a rubber spatula and process again until smooth.
Put frosting in a piping bag fitted with a star nozzle and decorate cooled cupcakes.
*TIP: You can use cooked ready to eat beetroots sold in packs in supermarket to make the beetroot puree.