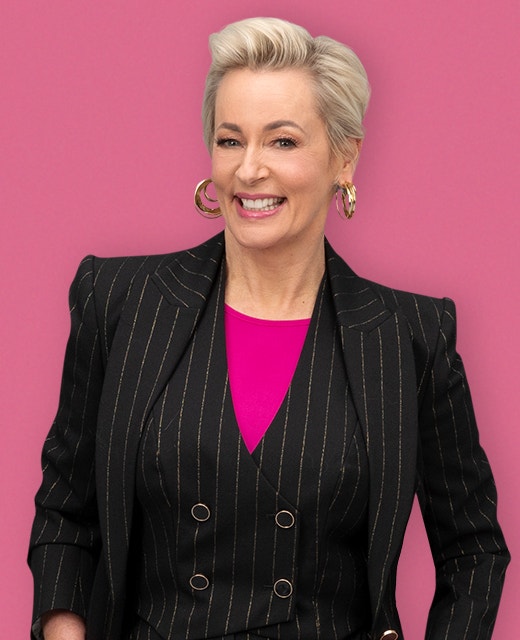 Amanda Keller
When it comes to wrangling Barry Du Bois, Miguel Maestre and Dr. Chris Brown, there is only one person who can be trusted. With her razor-sharp wit and ear for a thick Spanish accent, Amanda Keller OAM captains The Living Room couch each Friday.
Taking care of all thing's celebrity, Amanda's gotten up-close and very personal with some of the hottest home grown and international stars, including Hugh Jackman, Arnold Schwarzenegger, Matt Damon, Rebel Wilson and Steve Carrell.
With two TV Week Gold Logie nominations under her belt, you can't deny that Amanda is one of Australia's favourite gals. Aside from The Living Room, Amanda also co-hosts 10's Dancing With The Stars.
Her television career began as a producer's assistant on the award-winning children's program Simon Townsend's Wonder World! In 1985, she became a regular on-air reporter on The Midday Show with Ray Martin, but it was the television program Beyond 2000 that made her a household name.
In 1994, Amanda's deadly sense of humour was brought to light on The Denton Show. Her partnership with her friend and former Uni mate, Andrew Denton continued for a five-year radio stint in the late 90s on Triple M.
Amanda went on to host ABC television's Mondo Thingo, but was lured back to breakfast radio. Together with co-host Brendan 'Jonesy' Jones, Amanda's irrepressible humour, infectious laughter and love of a retro cookbook, saw her WSFM Breakfast radio show score the 2019 ACRA for Best On Air Team.
In 2017, Amanda became the first female broadcaster to be inducted into the Commercial Radio Hall of Fame.
Amanda has also published two books, Amanda's Handy Home Hints and Natural Born Keller. In 2012, Amanda was immortalised in wax at Madame Tussauds in Sydney and in 2016, she was awarded a Medal of the Order of Australia (OAM) for her services to broadcast media and the community.
Amanda has co-hosted 10's Dancing With The Stars alongside Grant Denyer since 2019.
Twitter: @JonesyandAmanda
Instagram: @amandarosekeller