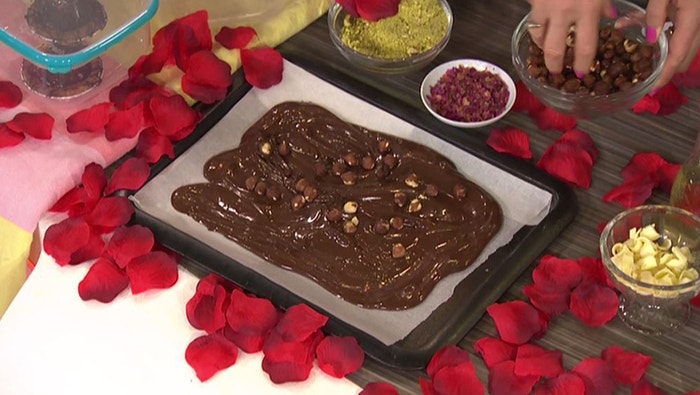 Steps
Sweet Hearts
In a small saucepan, place sugar and ½ cup water. Bring to the boil then place on low to simmer. Add rosewater & simmer till syrup like. Allow to completely cool.
Slice watermelon 1cm thick large slices, with a love heart cookie cutter cut out heart shapes. Pitt cherries and arrange hearts and cherries in two small bowls.
Drizzle over a few tablespoons of rose syrup and sprinkle on white chocolate curls.
Love Bites
Line a flat baking tray with baking paper. Melt chocolate and pour a thin layer into your tray. Sprinkle on rest of your ingredients as you desire. Allow to harden in the fridge. Once hard, break into pieces & place in a clear cello bag, tie with ribbon.
Sexy Tart
Place all ingredients in blender. Blend on high till smooth. Taste, as you are using avocado's taste and thick can vary through seasons so add more milk, cocoa or syrup depending on taste and texture.
Pour into your tart shells & decorate as desired. Chill for 2hrs.