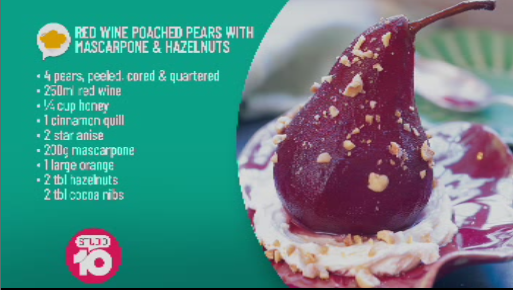 Steps
Combine pears, red wine, ¼ cup honey, cinnamon and star anise in a medium saucepan. Add just enough water to cover the pears. Bring to the boil over high heat. Reduce heat to medium low and cover with a cartouche (circle of baking paper) to keep pears below the surface of the poaching liquid. Simmer gently for 10-12 minutes or until pears are just tender. Remove pears and set aside. Return poaching liquid to high heat. Boil for 10-12 minutes or until a light syrup forms.
Meanwhile, stir mascarpone, orange zest and remaining one tablespoon honey in a small bowl.

Combine hazelnuts and cocoa nibs in a small frying pan over medium heat. Toast for 12- minutes or until fragrant.

To serve, arrange poached pears in serving bowls. Fill gaps with small dollops of crème fraiche and segmented orange. Scatter over hazelnuts and cocoa nibs. Finish with a drizzle of the poaching syrup.