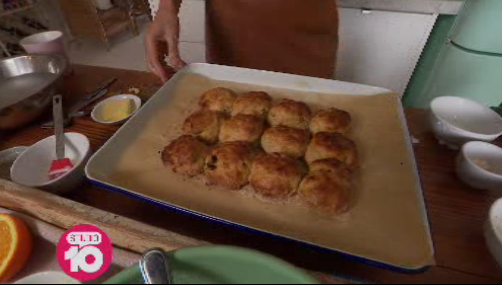 Steps
Pre Heat oven to 200 degrees C.
Mix together chopped dates, orange zest and juice in a bowl. Set aside to soak.
Place the flour into a large mixing bowl along with the butter. Using clean hands and working quickly, rub the butter into the flour until it resembles fine bread crumbs.
Mix the sugar through the flour and create a well in the center. Add in the date mixture and pour in the buttermilk. Using a cutting motion with butter knife, gently mix the dough until almost combined.
Line a large baking tray with extra flour and turn the dough out onto the lined tray. Using floured hands, bring the dough together and flatten onto a circle around 5-6cm high. Try not to work the dough too much.
Using a sharp knife, cut 12 wedges into the top and bake for 25 minutes, or until golden and fragrant. Serve scones warm with yoghurt and honey on the side.