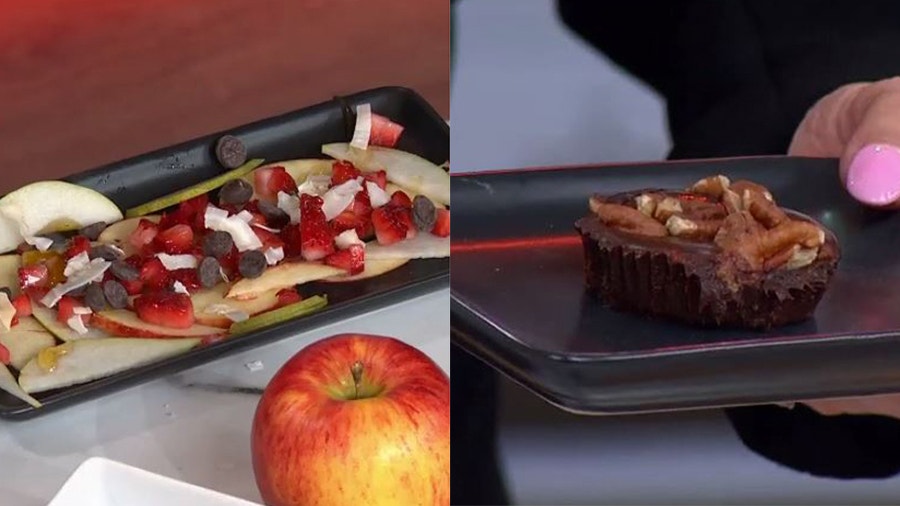 Steps
Chocolate Pods
In a mixing bowl mix together melted coconut oil, maple syrup and vanilla extract.
Add cocoa powder and salt to mixture. Stir until smooth.
Pour into desired cupcake tray lined with cupcake casings. Add toppings, if desired.
Freeze until solid, about 20 minutes.
Store in the freezer. When placing in lunch boxes sit them on top of an ice pack to keep cool till ready to eat.
Nachos Dessert Box
Rub pear and apple with fresh lemon.
Sprinkle your diced strawberries onto the apple and pears.
Melt honey or caramel with chocolate in separate bowls. Place in a microwave safe bowl and heat for 30 seconds on a lower power level then stir and heat again in lots of 15 seconds until melted.
Drizzle onto your fruit and sprinkle with coconut.
Banana Carrot Muffins
Pre-heat oven to 200. Prep a muffin tin with coconut oil or non-stick cooking spray.
In a medium-sized bowl, mix dry ingredients together until evenly dispersed.
Add the rest of the wet ingredients in a separate bowl. Whisk together until well combined. Fold the dry ingredients into the wet ingredients until just combined. Make sure not to over-mix the batter so your muffins will be super soft and fluffy!
Spoon or pipe the batter into the muffin pan. Bake for 5 minutes and then turn the oven down to 170. Bake until an inserted toothpick comes out clear. Time to bake will vary on your oven.
Remove the muffins from the oven and leave to cool in the tray. Remove from the muffin pan and leave the muffins on a cooling rack.
Notes
Prep and cook time is time per recipe.