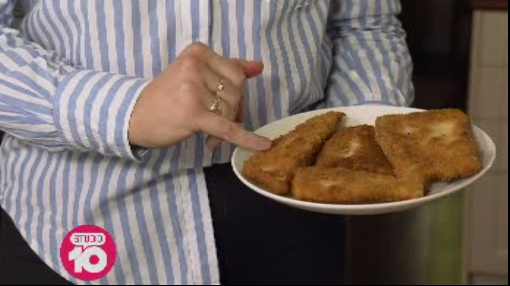 Steps
To make the Asian slaw, combine the cabbage, carrot, spring onion and sesame seeds and set aside.
To make the dressing, combine the olive oil, vinegar, sweet chilli sauce, soy sauce, sesame oil and salt. Stir to combine. Pour dressing over the slaw and mix thoroughly.
Place the vegetable oil into a large non stick frying pan and place over a high heat.
To crumb the snapper, place the fillets onto a plate and cover with plain flour. Ensure all the fillets are properly coated in flour on all sides before coating them in the beaten egg mixture. Coat each fillet in the egg mixture before then placing into the panko crumbs. Press down firmly on each fillet to make sure the panko crumbs stick to all sides of the fillet.
When each fillet has been crumbed, place into the hot oil in the frying pan. Cook each side of the fillet for about 3-4 minutes or until it is golden and cooked through.
Whilst the fish is cooking, place the brioche bun halves onto a hot griddle pan until lightly charred.
To serve, place 1 tbsp of sriracha sauce on the bottom of the bun. Top with a good handful of the slaw. Place a fillet of fish on top with 1 tbsp kewpie mayonnaise. Finish with some fresh chilli and coriander.