South African Rugby is in a state of disarray. An indecisive administration, a new national coach with an inexperienced staff and wholesale defections and retirements of senior players are all contributing factors.

After three straight losses in the Rugby Championship plus an earlier historic defeat on home soil to Ireland, South Africa finds itself in uncharted territory.

What on earth has gone wrong? After all, just ten months ago the Boks went within a whisker of downing the All Blacks in their Rugby World Cup Semi Final at Twickenham, losing 20-18.

In search of an answer, NZ has taken its game to a new level of speed, skill and fitness leaving every opponent languishing in its wake. In the process the All Blacks have seamlessly implemented their succession plan to cover departed champions.

Compounding that brutal fact of rugby life was South Africa's inexplicable decision to belatedly appoint coach Allister Coetzee less than a month out from the June series against Ireland. No surprise the Boks lost the opening test.

Consequently the home team now finds itself in the same sort of quagmire Australia faced a month ago. Injuries, unsettled combinations and a collective lack of confidence have left the Boks wounded and vulnerable.


Wallabies should implement 'Operation Brighton'
That is exactly why the Wallabies must be ruthless this weekend. Coach Cheika will stress the importance of discipline and need to be proactive in attack and defence. Go out and back yourselves but be aggressive, clinical and enjoy the occasion.

If the Wallabies need a blueprint for victory, they should go no further than Eddie Jones' game plan for Japan at last year's World Cup. Remember that rugby miracle at Brighton? Brave Blossoms upset two time world champions. Here's how they did it.

Play the game at pace. Secure good ball at scrum and lineout and focus straight away on getting in behind the defensive line to put the Boks on the back pedal. This diffused a lot of their physicality in defence and kept them under the pump.


Pressure the scrum half and have big carriers running at the fly-half in order to compress the defence and create opportunities further out. Australia has the skills to use the speed of the ball to keep the Boks under constant stress.
Eddie says the only statistic that really matters to him is how quickly a player is back on his feet ready for the next play or tackle. At Brighton the Japanese tackled till they dropped and then came back for more. Brilliant line speed and fell at source.

It was amazing. Even JK Rowling posted on twitter, "You couldn't write this."

Springboks go back to basics
But whilst the Springboks may be wounded, by definition that also makes them a dangerous beast, especially if the Wallabies slip back into old habits
and lose intensity and concentration.

The home team will come out with all guns blazing after being vilified by their media and angry fans. The return of experienced no.10 Morne Steyn ensures a smarter kicking strategy. Ex Springbok Louis Koen was called in this week to fine-tune those tactics.

Despite limited football after being concussed against Ireland, Pat Lambie's surprise selection at fullback will complement Steyn in a more territory based pressure game in the rarefied atmosphere. Their ability to kick for the corners and specifically away from Israel Folau will be crucial.

The loss of David Pocock with a broken hand definitely hobbles Australia's effectiveness at the breakdown. On the other hand it opens the door for aggressive youngsters Sean McMahon and Lopeti Timani to inflict some damage with their carries and tackling.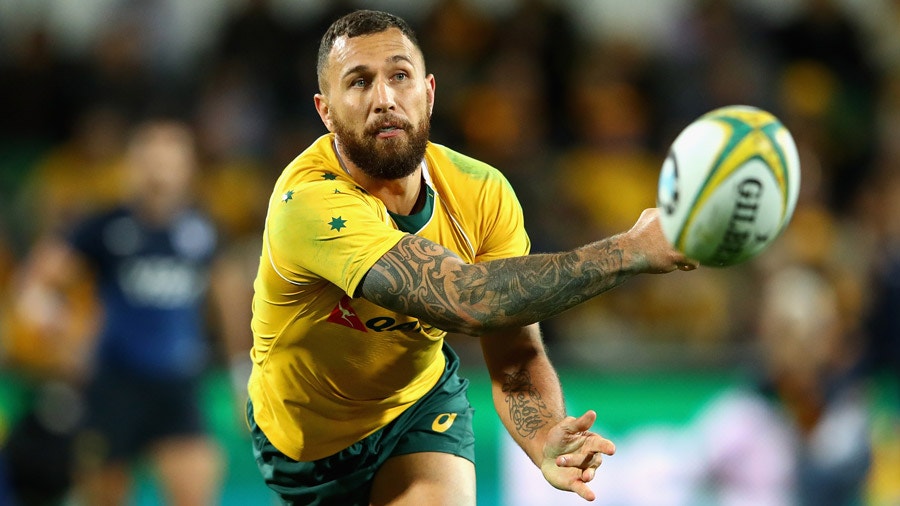 Time to rewrite rugby history in Pretoria
This clash will tell us whether Australia's glass is half empty or half full. Given the quality of the Wallabies' squad has been questioned by luminaries such as NZ's World Cup winning coach Graham Henry, there is only one way to answer such critiques.

Indications are that Cheika's team has made incremental improvements in the past two victories but the rugby public remains unconvinced.

On reflection, the bar has certainly risen in the quality of catch/pass and running lines. This has mainly been driven by the halves combination of Will Genia and Quade Cooper.


The tight five has dramatically lifted its work rate while the earlier leaky defence has also stiffened. Own quarter exits have improved sharply and Reece Hodge's impressive big boot in general play and for goal is poised for a quantum leap at altitude.

May the real Wallabies stand up. It is time to rewrite history.


Gordon Bray will be joined by Wallaby great Matt Burke and host Scott Mackinnon for Saturday night's live telecast on TEN and tenplay from 12.50am AEST.