By its nature, this spiritual badge of honour pays homage to all past Wallabies and their preparedness for risk taking, running the ball in a creative way and fighting for your mates at any cost till the final whistle.
Although Bledisloe I at ANZ Stadium played out in atrocious conditions, that Wallaby brand of intent was unmistakable. The players embraced the weather, ignored convention and took a ball in hand attack to the startled All Blacks.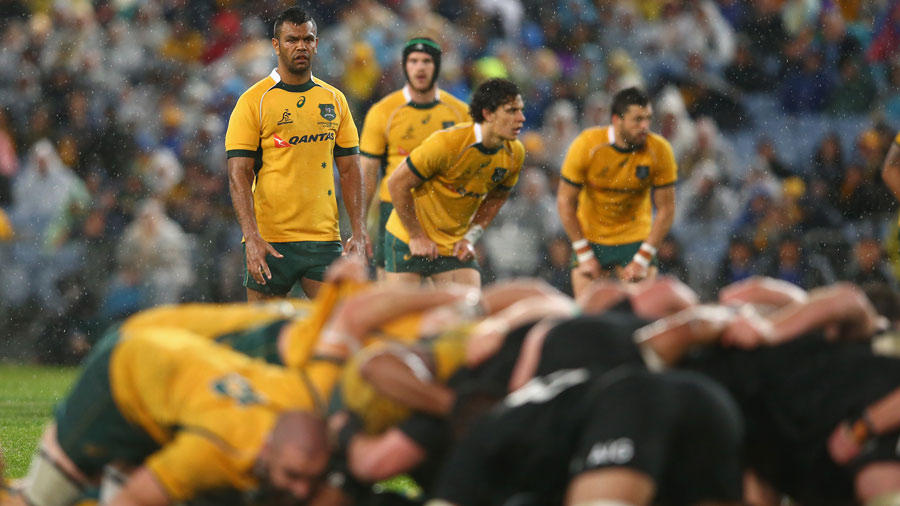 The bold tactics helped torpedo New Zealand's seventeen match winning streak.
Irrepressible Michael Hooper, the fourth youngest skipper in Australian rugby history, adopted a swashbuckling mindset and his men followed with conviction.
Hooper was criticized for not taking penalty kicks. Instead he bit the bullet and went hard at the All Blacks' goal line. NZ was a man down after all. If that gamble had come off, his team might well have been playing for the Cup on Saturday.
Instead they face a must win or another draw, to keep the fate of Lord Bledisloe's famous silverware alive.
At this point it is pertinent to address the importance of the French connection this weekend. The Wallaby revolution is tasked to storm a Kiwi 'Bastille' colloquially known as 'Fortress Eden Park'.
The most recent national team to successfully do so was France 20 years ago with a last gasp length of the field assault that took the All Blacks' final breath away. Jean-Luc Sardourny sealed victory with 'the try from the end of the world'.
L'Equipe de France was at it again three years ago in the RWC Final at Eden Park. Only generous 2nd half law interpretations by Craig Joubert allowed the All Blacks to escape the noose as they succumbed to their own fear of failure.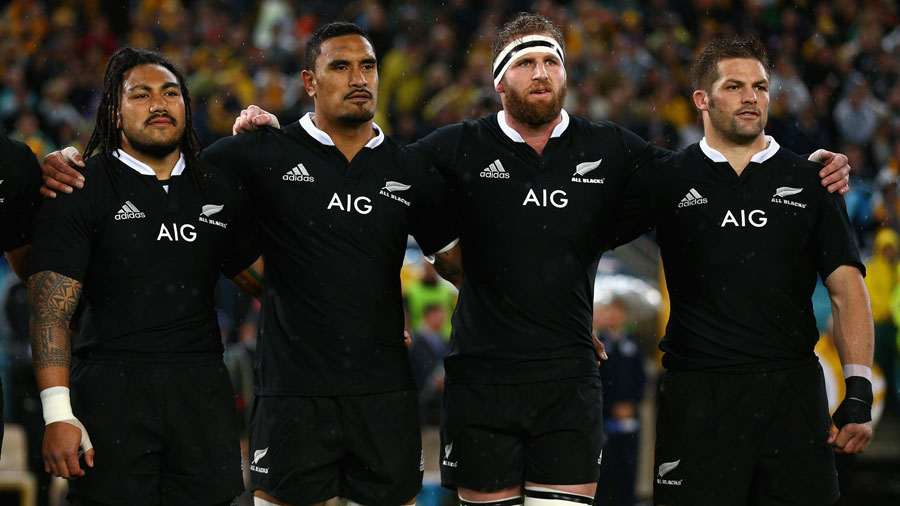 As the great Jonah Lomu told me at an HSBC post match function last Saturday, "Mate, the fortunes of the All Blacks are ingrained in our national psyche. It's a matter of life and death in New Zealand."
"When we lost, little old ladies came up in the supermarket, gave you a nudge and said you should have passed that ball or not have missed that tackle. The burden of expectation is very real for the All Blacks. Winning is everything."
Last week's referee Jaco Peyper appears to have few friends after his technical appraisal in atrocious conditions. Jonah did not hold back. "I would have commissioned a sniper twelve rows back after the first ten minutes," he quipped.
Which brings us back to the French connection and this week's referee. A hearty bonjour to Monsieur Romain Poite who is poised to wave his Gallic wand around Eden Park, ideally in a relaxed and fluent manner for players and fans alike.
Like the hapless Peyper, Romain is also largely friendless across stretches of the international rugby community. In South Africa he was subjected to a petition last year for his ludicrous sin binning of Springbok hooker Bismarck du Plessis.
Tens of thousands of incensed South African fans wanted him ejected from the panel of elite referees. Poite's downfall was to back his eye witness perception of a brutal but legal tackle on Dan Carter and not specifically refer it to the TMO.
Monsieur Poite got it horribly wrong last year at Eden Park. As a consequence, his decision helped kill off South Africa's chances and subsequently diluted the prospect of an epic match, for millions of rugby lovers around the world.
Mistakes happen but Australia's fear is that Poite will bring the mindset from last year's 3rd Lions' Test in Sydney, On that occasion, he sin binned Wallaby prop Ben Alexander in the early stages for persistent scrummaging infringements.
Clearly Poite had pre-conceived ideas on the strength of Australia's scrum because the pack was hammered unmercifully by his whistle thereafter.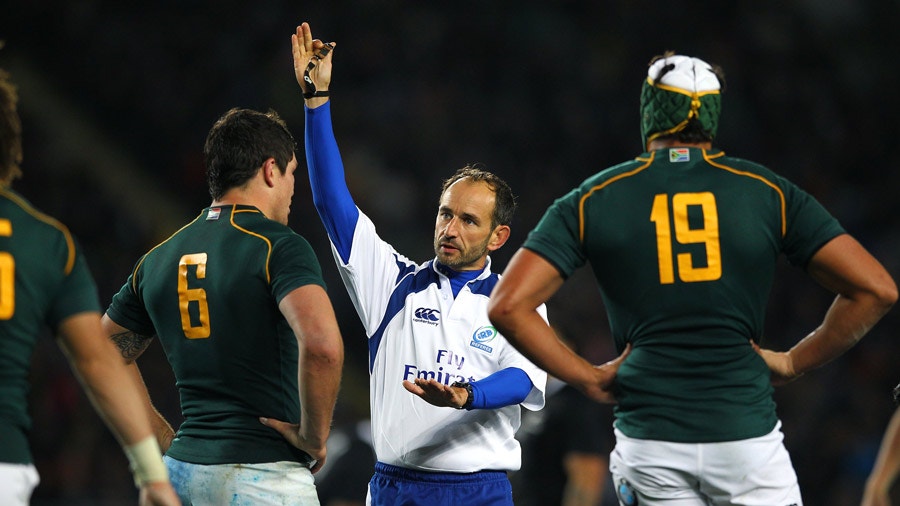 Right or wrong that day, Australian fans hope he arrives with open mind this time and calmly reads what is in front of him. For all Peypers' whistle happy antics last week, he still gave due credit to the vastly improved Aussie scrum.
Both camps will meet with Poite and it must be said that the two head coaches have carefully communicated their dissertations through the media with contrasting perspectives.
There is a hint of denial coming from the All Blacks' camp. The assertion is that they were not allowed to scrum and Peyper has admitted to getting decisions wrong. They want a fair go from Poite in order to show their alleged superiority.
Ewen McKenzie on the other hand took a more positive tack, implying through experience as coach at Stade Francais, he is certain Poite will reward a dominant scrum that is going forward. To that end he said the ball is in "our" court.
To my ear, it sounds like one coach is privately aware his scrum is not the force it was, while the other is saying I'm backing my players to do the job.
For the record, the only starting survivor of that distressed Wallaby scrum in the 3rd Lions' Test in Sydney is no.8 Wycliff Palu. Romain Poite please note!
In the cold damp washup of the Olympic Stadium, it should be said that the new look Wallaby forward pack shaded the All Black eight.
Australia enjoyed 65% possession, won the ruck and maul count 96-50, had 123 carries to 64, beat 21 defenders to 6, had 192 passes to NZ's 92 and had 9 offloads to 1.
And for me the two brightest stars were workaholic new kids on the block, Sam Carter and Nathan Charles. The young Western Force hooker was inspirational with a phenomenal work rate right across the field.
The All Blacks will be hellbent on involving their devastating attacking back three of Ben Smith, Julian Savea and Cory Jane. The only thing this trio caught last week was a cold. Savea in particular is a modern day Jonah.
A final word then from Wallaby legend and Brumbies' coach Stephen Larkham who told me after the game, "These Wallabies are ready to explode."
Can 'Fortress Eden Park' be the flashpoint? Let the Wallaby revolution begin!