Los Pumas have been a revelation in this year's Rugby Championship. Although still winless in their third year of involvement, they are now equipped to bring down a prized scalp.

A first ever victory over the Springboks went begging in Salta three weeks ago. The final score of 33-31 required a Houdini like escape by South Africa who were out-scrummed and out enthused.

Last week's loss to the All Blacks should be viewed as a hiccup. In wet conditions, the Pumas trailed 6-8 on half-time only to concede a back breaking try against the run of play by Beauden Barrett.

Although outscored four tries to nil, a referee howler cost them dearly in the second half when rangy no.8 Leonardo Senatore charged down Ma'a Nonu's kick to score a legitimate try.

It was a 14 point turnaround. The French official inexplicably ruled a knock-on. What an embarrassment! Clearly the current modus operandi is flawed if both assistant referees did not intervene.
It must be said that recent refereeing and touch judge officiating have fallen well short of the mark. Steve Walsh has excelled but the other top tier guys, Nigel Owens, Wayne Barnes and Craig Joubert have been sorely missed.

That said, I believe the criticism of Irishman George Clancy needs to be tempered. His decision to sin bin Bryan Habana for a high shot on Adam Ashley-Cooper is worth revisiting.

Australia was on full, desperate attack around the red zone. Habana's impact was both high and dangerous. AAC reeled backwards. His neck was close to hyper-extending, risking a grave injury.

Critics should view the incident in real time. My instinctive reaction in commentary was to state….…"This could be a yellow card."
But let's not dwell on what might have been. The focus this week for the Wallabies is for a disciplined, clinical display of attacking rugby. Argentina is up for the fight and will expose any shortcomings in the tight and loose forward play.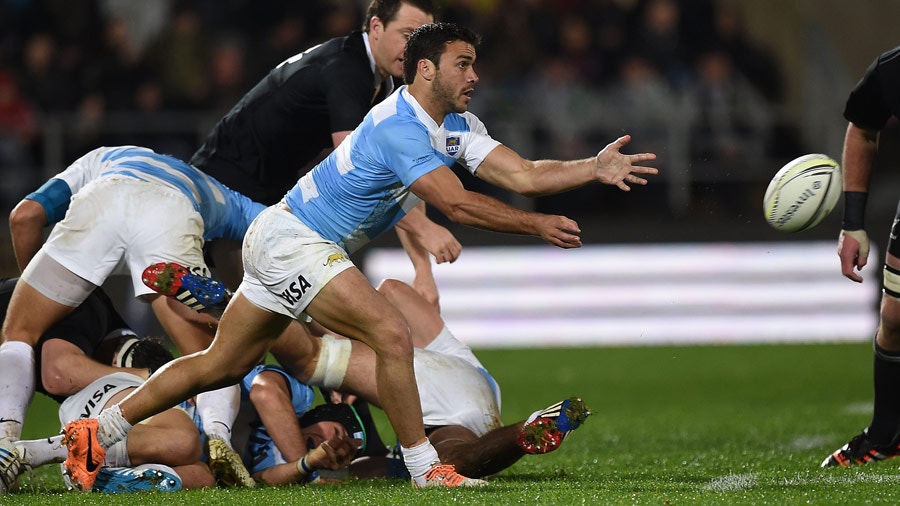 So apart from subduing the muscularity of the Puma forwards at set piece and the breakdown, Australia's top priority is to shut down halves Nicholas Sanchez and Martin Landajo.
These two firecrackers will cause havoc if given space. Sanchez was the outstanding player in the opening test matches against South Africa but was cleverly nullified last week by suffocating NZ defence.

The Puma backs were not allowed to play and as a consequence they lost the plot in the wet conditions. No structure, wild cutout passes and a general lack of composure.

However it would be folly to judge their classy backs on one bad performance. The relevant yardstick is their exhilarating display against South Africa in Salta.

Landajo and his excellent replacement Thomas Cubelli always asked questions of the defensive line in Salta, while Sanchez was a veritable general with his straight running and clever distibrution.

Australia's most glaring deficiency against the Springboks was discipline. As good as he is, Rob Simmons is on borrowed time. He has now slipped into the 'serial offender' category. Enough said.

The return of Tatafu Polota-Nau at hooker is a massive boost for the Aussie scrum but let's pay tribute to the contribution of Reds' rake James Hansen who did his country proud for the full eighty last week.

Argentina's scrum at full throttle is a work of art. That is why Messrs Slipper, Polota-Nau and Kepu must gain parity, backed by the sustained support of the back five forwards.

Expect Argentina to be more direct in the backs this week with a genuine intention to engage their two new classy wingers Juan Imoff and Manuel Montero.

Fullback Joaquin Tucalet is an eager counter-attacker while evergreen Juan Martin Hernandez provides the experienced guidance through his educated boot and subtle decision-making at inside centre.

Wallaby fans should be delighted to see a fit again Ben McCalman back at no.8. He has a double Puma connection this weekend. His late father's team, the Warren Pumas, face Nyngan in the Western Plains Grand Final.

In summation, the Wallabies must be ruthless in their control and discipline. Negate Argentina's strike areas at scrum and in the halves and victory should follow. Anything less and the Pumas will threaten to snatch the scent of victory.